Holidays can be tough for a lot of reasons, and being on a restricted diet like the autoimmune protocol doesn't help. When there are gifts to buy, events to plan, and hungry mouths to feed, having to worry about food sensitivities on top of everything else can be downright overwhelming.
While I wish I could take all that stress off  your shoulders, hopefully, this autoimmune protocol Easter menu will help a little. These are my go-to recipes for spring celebrations, featuring light, earthy flavors, tons of herbs, and a smidge of comforting fruits.
Start the day with a fun, healthy Carrot Cake Smoothie along with some protein-rich sausage patties and either a simple side of sauteed greens or some decadent Prosciutto-Wrapped Pears. We always serve dinner early, so anything in between is a fend-for-yourself situation, though we usually prefer to wait for the feast. This hearty mix of Applesauce Pork Ribs, Mashed Sweet Potatoes, and Maple Bacon Brussels Sprouts is sure to tide everyone over (and if not, there are usually leftovers in the fridge for a second dinner later)!
If you've been feeling overwhelmed trying to put together a meal of your own, I hope some of those recipes look simple and tasty enough to make it to your table on Easter Sunday. Of course, I have plenty of others to choose from, too! Check out my favorite AIP Holiday Recipes for more.
Have a great holiday!
All-natural, organic makeup and skin care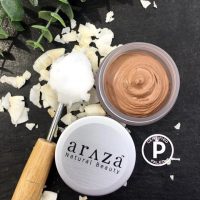 Araza Natural Beauty, founded by two sisters with Celiac disease, is the first Paleo-certified beauty company to offer a full range of products for skin, eyes, cheeks, and lips–all of which are additive, dairy, and gluten free. In all my years of experimenting with natural makeup, this has become my favorite, fool-proof brand for everyday looks!