Holidays can be tough for a lot of reasons, and being on a restricted diet like the autoimmune protocol doesn't help. When there are gifts to buy, events to plan, and hungry mouths to feed, having to worry about food sensitivities on top of everything else can be downright overwhelming.
While I wish I could take all that stress off your shoulders, hopefully, this autoimmune protocol Easter menu will help a little. These are my go-to recipes for spring celebrations, featuring light, earthy flavors, tons of herbs, and a smidge of comforting fruits.
Start the day with a fun, healthy Carrot Cake Smoothie along with some protein-rich sausage patties and either a simple side of sauteed greens or some decadent Prosciutto-Wrapped Pears. We always serve dinner early, so anything in between is a fend-for-yourself situation, though we usually prefer to wait for the feast. This hearty mix of Applesauce Pork Ribs, Mashed Sweet Potatoes, and Maple Bacon Brussels Sprouts is sure to tide everyone over (and if not, there are usually leftovers in the fridge for a second dinner later)!
If you've been feeling overwhelmed trying to put together a meal of your own, I hope some of those recipes look simple and tasty enough to make it to your table on Easter Sunday. Of course, I have plenty of others to choose from, too! Check out my favorite AIP Holiday Recipes for more.
Have a great holiday!
Looking for Low-FODMAP Recipes?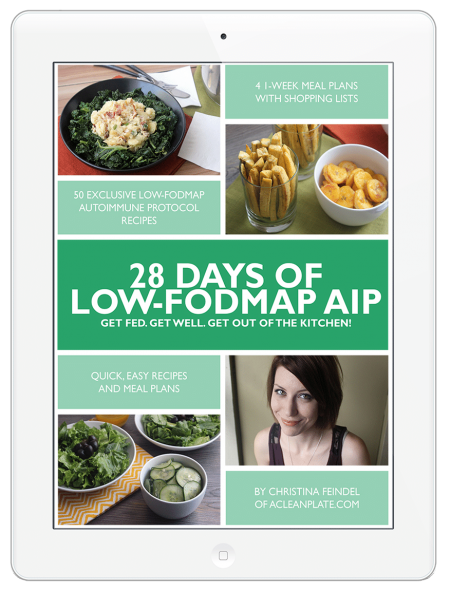 The low-FODMAP diet is often prescribed for people with IBS or Small Intestinal Bacterial Overgrowth (SIBO), and there's a huge overlap of that demographic with people with autoimmune disease. My e-book 28 Days of Low-FODMAP AIP combines both IBS- and autoimmune-friendly diets in a 28-day meal plan designed to jump start and simplify this often-challenging diet change. Just you wait: The meal plan includes 50 exclusive low-FODMAP recipes you won't find on my website or anywhere else, with dishes like Chicken Vindalo, Jambalaya, and crispy, crunchy Tostones. You'll be amazed at the variety of flavors still available to you! The ebook is available as a digital download for $9.99.