What are some of your favorite "weird" food combinations? I'd love to hear from you in the comments! Most recently, I indulged in some turkey with cranberry sauce on top of it for Thanksgiving. In fact, most of my quirky preferences involve fruit! It's no secret that I'm a complete sucker for the combination of prosciutto and fruit. I'm equally vocal about my passion for mixing fruit with balsamic vinegar, particularly on salads but even in desserts. These Balsamic-Glazed Prosciutto-Wrapped Pears are the best of both worlds, the ultimate expression of my obsession with savory sweets. With soft slices of ripe pear, a spiral of salty prosciutto, and a thick, syrupy balsamic glaze, this snack is a real riot for your taste buds. It's also incredibly simple to make because it only has three ingredients! Just make sure to keep an eye on your vinegar while it reduces–this would be a great time to do some dishes or start prepping other elements of your meals for the day. There's nothing more disappointing than a reduction that went a little bit too far and winds up scorched to the bottom of your pan (I'm speaking from experience here)!
Looking for Some Simple AIP Recipes?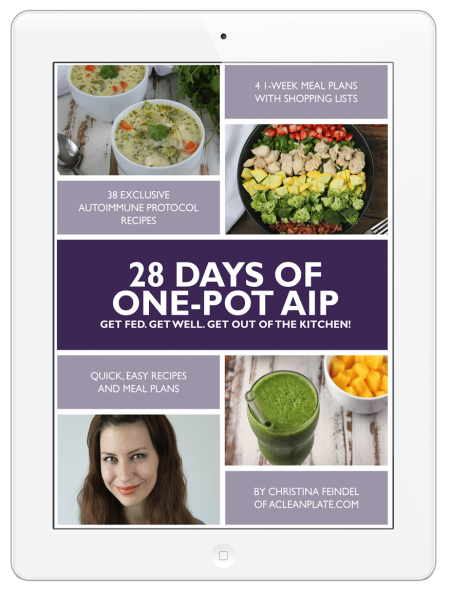 When you're dealing with fatigue, pain, or illness, eating healthy is hard enough without having to multitask while cooking or clean up a huge mess afterwards. That's why one-pot meals are my favorite. 28 Days of One-Pot AIP is exactly what it sounds like: A 28-day meal plan featuring only 100% autoimmune protocol, one-pot recipes. There's an intro to explain the AIP and one-pot cooking and the preparation is so much simpler when you've only got one thing to keep track of. Plus, you'll be amazed at the variety of flavors still available to you, like my Chicken Pot Pie Soup, satisfying green smoothies, and colorful salads! The e-book is now available for $9.99.
Nutrition Facts
Calories:
75
kcal
Carbohydrates:
17
g
Protein:
1
g
Fat:
0.2
g
Saturated Fat:
0.05
g
Polyunsaturated Fat:
0.04
g
Monounsaturated Fat:
0.1
g
Cholesterol:
1
mg
Sodium:
43
mg
Potassium:
119
mg
Fiber:
2
g
Sugar:
12
g
Vitamin A:
25
IU
Vitamin C:
5
mg
Calcium:
10
mg
Iron:
0.2
mg
Instructions
Bring the vinegar to a boil in a small saucepan over medium heat, then reduce the heat to low and cook 45 minutes or until thickened into a syrup.

Wrap a slice of prosciutto around each slice of pear, then serve drizzled with balsamic glaze.