My husband works in downtown Austin, just a few blocks away from the Whole Foods flagship store. Every few weeks, I like to tag along to work with him and walk over to Whole Foods for a nice, hearty lunch–and to pick up things I can't get locally, like celeriac and white sweet potatoes. I loooooove white sweet potatoes. Also known as the Hannah sweet potatoes, they aren't any less sweet than orange ones. But they don't have the same "orange" flavor. You know, that carrot-like taste of beta-carotene. It's not one of my favorite flavors, especially for savory applications. With brown sugar, butter, and toasted marshmallows, sure. But since we don't really eat a whole lot of that sugary stuff on the autoimmune protocol, I prefer Hannahs for my sweet potato needs. Roasting the garlic and the potatoes before mashing gives these Mashed Roasted Garlic Sweet Potatoes a rich, slightly-caramelized flavor that just can't be beat. If you'd like, take these to the next level by garnishing with cooked bacon crumbles!
Looking for Low-FODMAP Recipes?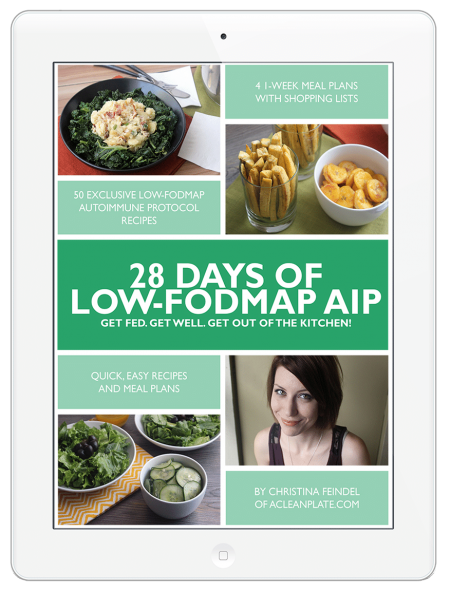 The low-FODMAP diet is often prescribed for people with IBS or Small Intestinal Bacterial Overgrowth (SIBO), and there's a huge overlap of that demographic with people with autoimmune disease. My e-book 28 Days of Low-FODMAP AIP combines both IBS- and autoimmune-friendly diets in a 28-day meal plan designed to jump start and simplify this often-challenging diet change. Just you wait: The meal plan includes 50 exclusive low-FODMAP recipes you won't find on my website or anywhere else, with dishes like Chicken Vindalo, Jambalaya, and crispy, crunchy Tostones. You'll be amazed at the variety of flavors still available to you! The ebook is available as a digital download for $9.99.
Instructions
Preheat the oven to 350 degrees F. Layer the potato slices in a baking dish.

Top with remaining ingredients and bake 45 minutes or until the potatoes are tender.

Mash or puree until smooth.