My husband works in downtown Austin, just a few blocks away from the Whole Foods flagship store. Every few weeks, I like to tag along to work with him and walk over to Whole Foods for a nice, hearty lunch–and to pick up things I can't get locally, like celeriac and white sweet potatoes. I loooooove white sweet potatoes. Also known as the Hannah sweet potatoes, they aren't any less sweet than orange ones. But they don't have the same "orange" flavor. You know, that carrot-like taste of beta-carotene. It's not one of my favorite flavors, especially for savory applications. With brown sugar, butter, and toasted marshmallows, sure. But since we don't really eat a whole lot of that sugary stuff on the autoimmune protocol, I prefer Hannahs for my sweet potato needs. Roasting the garlic and the potatoes before mashing gives these Mashed Roasted Garlic Sweet Potatoes a rich, slightly-caramelized flavor that just can't be beat. If you'd like, take these to the next level by garnishing with cooked bacon crumbles!
Make your own non-toxic cosmetics!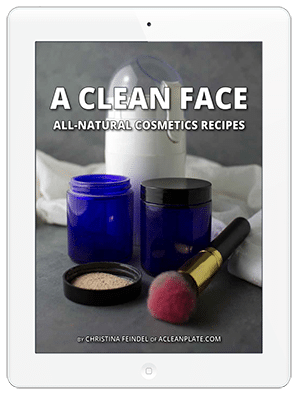 I may make my living as a food blogger, but journey toward a more health-conscious lifestyle actually began with making my own cosmetics while I was still in high school–many years before I started "clean eating". Desperate to get a handle on my sensitive skin and nose, I was also hoping for cheaper, more eco-friendly alternatives to store-bought products. If you're in the same boat, making your own cosmetics and toiletries is easier than you might think! My e-book A Clean Face will give you the tools you need to get started for just $9.99.
Instructions
Preheat the oven to 350 degrees F. Layer the potato slices in a baking dish.

Top with remaining ingredients and bake 45 minutes or until the potatoes are tender.

Mash or puree until smooth.