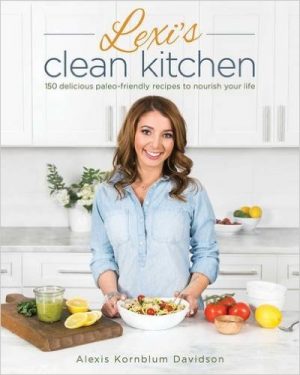 I try pretty much every Brussels sprout recipe I come across. It's not because I like Brussels sprouts: I despise Brussels sprouts. But I know they're super-duper nutritious, so I keep trying them. I figure I'm bound to find a way that makes them not terrible eventually, right? Cut to flipping through my copy of Lexi's Clean Kitchen. Of all the season-appropriate recipes I could have shared to spread the love for this cookbook, why the heck would I choose Maple Bacon Brussels Sprouts? Who buys a cookbook for its Brussels sprouts recipe? But if Lexi can get me to happily eat them, she must be some kind of culinary wizard-genius. This is the simple, flavorful, not-gross Brussels sprouts recipe I've been looking for my whole life. My husband loved it, too, and he's even more anti-sprout than I am. So, here's my pitch: Try this recipe. If you like it, buy Lexi's Clean Kitchen. I promise you'll like everything else too.
Well, okay. Maybe you'll want to know what else is in it first. I understand. The opening chapter covers Lexi's culinary philosophy, what to do and not do on a Paleo diet, how to stock your kitchen, and tidbits for stress management, exercise, and other healthy habits, setting you up (not bogging you down) with what you'll need to get started. Not just recipes, but a go-get-em attitude, the right supplies, and a healthy appetite. But, speaking of recipes….
In Addition to these Maple Bacon Brussels Sprouts, you'll find:
Best-Ever Fluffy Pancakes (or Waffles!)
French Toast Sticks
Paleo Granola
Classic Foccaccia
Spinach Dip Stuffed Mushrooms
Lemon Herb Spring Vegetable Risotto
Chicken Fajita Salads
Beef Tenderloin with Creamy Horseradish Sauce
S'mores Pots de Creme
Carrot Cake Bars
… and more, over 150 recipes in total. All of them are free of gluten, refined sugars, and soy, with dairy- and grain-free options. There's a guide to egg-free, nut-free, Paleo-friendly, and vegan-friendly recipes, too. Because it includes dairy, oats, and rice in a couple of its recipes, Lexi's Clean Kitchen is the perfect introduction to clean eating for anyone that may not necessarily be ready to go full-fledged Paleo yet. But it's also got tremendous variety for anyone who's already Paleo and just wants some exciting new recipes. It's kind of the best of both words, is what I'm saying. Plus, it's super pretty! Each recipe has a scrumptious full-page photo. I challenge you to flip it open and not immediately say "I'd eat that". And then say it again on the next page. And the next.
Nutrition Facts
Calories:
221
kcal
Carbohydrates:
24
g
Protein:
11
g
Fat:
11
g
Saturated Fat:
2
g
Polyunsaturated Fat:
2
g
Monounsaturated Fat:
7
g
Cholesterol:
9
mg
Sodium:
719
mg
Potassium:
934
mg
Fiber:
9
g
Sugar:
8
g
Vitamin A:
1700
IU
Vitamin C:
265.7
mg
Calcium:
100
mg
Iron:
3.4
mg
Instructions
Preheat the oven to 400 degrees F and line a baking sheet with parchment paper.

In a large bowl, combine the Brussels sprouts with 1 tablespoon of the olive oil, the salt, pepper, and garlic powder.

Place the Brussels sprouts on the parchment-lined baking sheet and bake for 25 to 30 minutes, until fork-tender.

While the sprouts are baking, cook the bacon in a large saute pan over medium heat until crispy, then remove to a plate lined with paper towels to drain. When cool, chop into small pieces. Drain most of the bacon fat from the pan, leaving a little to grease the bottom of the pan.

When the Brussels sprouts are done, return the saute pan with the bacon fat to medium heat and add the remaining tablespoon of olive oil. When the oil is hot, add the baked Brussels sprouts to the pan.

Pour 1 tablespoon of maple syrup over the Brussels sprouts and toss to coat evenly with a wooden spoon.

Cook over medium heat for 5 minutes, stirring often, until the sprouts are well coated and the maple syrup starts to caramelize them. Remove from the heat and sprinkle with the bacon. Taste, season with additional salt and another tablespoon of maple syrup, if desired, and mix to incorporate. Serve immediately.