I think when it comes to chicken sausage, apples and cinnamon are the most popular flavoring choice. Chicken's mild flavor just makes it a great palette for savory and/or sweet applications. For example, these sausage patties are equally delicious topped with mustard or maple syrup. Or get the best of both worlds and dress 'em with honey mustard!
Don't Feel Like Cooking?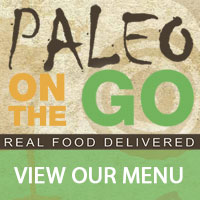 That's okay! Everyone needs a break sometimes, especially during busy times like the holidays or when you're sick or stressed out. When I find myself unwilling or unable to prepare healthy meals myself, I turn to Paleo on the Go. Yes, they have autoimmune protocol-friendly options! With tons of nutritious, delicious, pre-packaged meals, Paleo on the Go's ready-to-go, frozen courses are perfect for those days you just don't want to be in the kitchen. They even offer an appreciable selection of AIP-friendly treats, including toaster pastries!
Nutrition Facts
Calories:
375
kcal
Carbohydrates:
10
g
Protein:
31
g
Fat:
23
g
Saturated Fat:
11
g
Polyunsaturated Fat:
4
g
Monounsaturated Fat:
7
g
Cholesterol:
97
mg
Sodium:
939
mg
Potassium:
337
mg
Fiber:
3
g
Sugar:
4
g
Vitamin A:
7
%
Vitamin C:
5
%
Calcium:
5
%
Iron:
20
%
Instructions
Heat the oil in a large skillet over medium heat.

Combine the remaining ingredients in a mixing bowl and mix well by hand, then form into 4 patties.

Cook in the skillet about 20 minutes or until cooked through, flipping once halfway through.