This can be a tough time of year for a lot of reasons, never mind having to go through Valentine's day on a special diet or struggling with sugar addiction. All those sweets and chocolate and decadent date-night desserts… it's enough to drive you mad. My anniversary also happens to be around this time (this year is number 11!), so there's a lot of pressure to come up with or go out for extra-special meals. But if you have food allergies or autoimmune disease, Valentine's Day doesn't have to be a bust! These AIP Strawberry Brownie Parfaits are simple to make and wonderfully indulgent. Adapted from my popular AIP Chocolate Cake recipe, these brownies involve very little prep, cook fast, and make the perfect crumbled base for a bright, festive, strawberry parfait. Of course, you can use any fruit you like here–raspberries, bananas, and cherries would be particularly good. You can also use the Banana-Avocado Frosting from the original cake recipe instead of the coconut-based whipped cream if you want to.
Keep Your Health on Track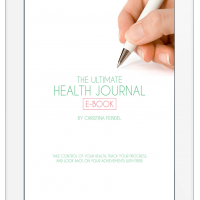 Whether you're starting the autoimmune protocol, a new medication, an exercise routine or trying to get to the bottom of your headaches or indigestion, cataloging your activities and symptoms is a great way to gauge your progress. The Ultimate Health Journal can help you stay on track with diet, fitness, and other lifestyle changes you have begun or been prescribed, notice patterns in your health and lifestyle so you can enact positive changes, and provide a valuable tool for you, your family, and your healthcare team. I would never have noticed that cinnamon makes me sneeze or dairy gives me hiccups without keeping a written record during my elimination diet, which helped me see the patterns that solved my problems! The ebook is available as a digital download with printable template for $6.99.
Nutrition Facts
Calories:
198
kcal
Carbohydrates:
28
g
Protein:
1
g
Fat:
9
g
Saturated Fat:
8
g
Polyunsaturated Fat:
0.5
g
Monounsaturated Fat:
1
g
Cholesterol:
8
mg
Sodium:
201
mg
Potassium:
343
mg
Fiber:
3
g
Sugar:
16
g
Vitamin A:
1900
IU
Vitamin C:
56.9
mg
Calcium:
40
mg
Iron:
0.7
mg
Instructions
Brownie Layer
Preheat the oven to 350 degrees F and lightly grease an 8" square pan with coconut oil or any other cooking fat.

Combine all brownie ingredients in a high-powered blender and process until smooth.

Spread the batter into the cake pan and bake 12-15 minutes or until a toothpick inserted into the center comes out clean.

Allow to cool to room temperature before cutting or crumbling into pieces.
Toppings
In six serving dishes, spread equal amounts of the brownie crumbs and sliced strawberries, then top with a dollop of whipped cream.

Serve chilled or at room temperature.