My ever-skeptical other half declared this "as close to whipped cream as possible when you have coconut involved". It's light, fluffy, and sweet. And yeah, there's a slight coconut taste. But the coconut makes it the healthiest version of whipped cream you'll ever see (well, unless you're sensitive to coconut, in which case that sucks, and I'm sorry), so dig in!
Variations on Whipped Cream:
Swap half the honey for strong-brewed coffee or Herbal Coffee for Espresso Whipped Cream
Add 5-6 tablespoons of carob (AIP) or cocoa powder (not AIP) with the honey and vanilla for Chocolate Whipped Cream
Add 5-6 tablespoons of powdered fruit like strawberries or raspberries with the honey and vanilla for Fruit-Flavored Whipped Cream
Keep it Simple with Freezer Cooking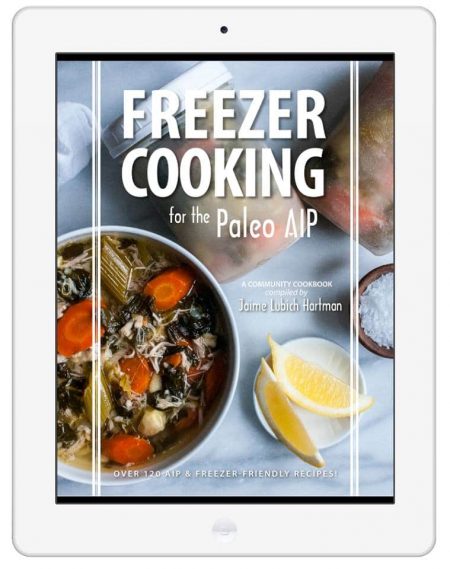 Preparing meals ahead of time and keeping them on hand in the freezer is one of the best ways to make any diet change sustainable. You'll wind up spending less time in the kitchen most days and will always have something ready to go when hunger or cravings strike. With Freezer Cooking for the Paleo AIP, you'll get 123 tried-and-true recipes from 30 of your favorite autoimmune protocol bloggers to help you out. Designed for batch cooking and advance prep, each recipe includes instructions for storing, freezing, and reheating it. There are recipes for every meal of the day and recipes for special occasions, too! The ebook is now available as a digital download for $18.90.
Nutrition Facts
Calories:
597
kcal
Carbohydrates:
37
g
Protein:
6
g
Fat:
47
g
Saturated Fat:
44
g
Sodium:
4
mg
Potassium:
17
mg
Fiber:
0.1
g
Sugar:
30
g
Iron:
12
%
Instructions
Whisk the coconut cream in a large bowl with a stand or mixer for 1-3 minutes at high speed.

Add the honey and vanilla and continue beating to incorporate.

If the mixture is too thick to become fluffy, add 1 teaspoon of water or coconut water and beat again.