My ever-skeptical other half declared this "as close to whipped cream as possible when you have coconut involved". It's light, fluffy, and sweet. And yeah, there's a slight coconut taste. But the coconut makes it the healthiest version of whipped cream you'll ever see (well, unless you're sensitive to coconut, in which case that sucks, and I'm sorry), so dig in!
Variations on Whipped Cream:
Swap half the honey for strong-brewed coffee or Herbal Coffee for Espresso Whipped Cream
Add 5-6 tablespoons of carob (AIP) or cocoa powder (not AIP) with the honey and vanilla for Chocolate Whipped Cream
Add 5-6 tablespoons of powdered fruit like strawberries or raspberries with the honey and vanilla for Fruit-Flavored Whipped Cream
Struggling to Start the Autoimmune Protocol?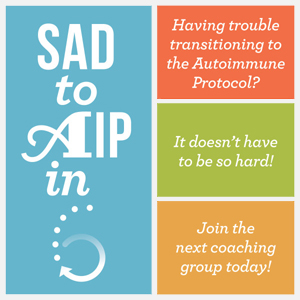 Living with chronic illness can be isolating enough without overhauling your lifestyle, often without the full support of family members who don't want their diets to change. But you don't have to go through it alone. SAD to AIP in SIX, from Nutritional Therapy Practitioner and author of The Alternative Autoimmune Cookbook Angie Alt, will coach you step-by-step through the transition from the standard American diet (SAD) to the autoimmune protocol (AIP). The six-week course includes coaching from Angie and her team, support from your peers in the program, and reference materials–it's an incredible bargain compared to private health coaching sessions. If you're struggling to make the change to the AIP or feeling isolated on your health journey, this is the program for you!
Nutrition Facts
Calories:
597
kcal
Carbohydrates:
37
g
Protein:
6
g
Fat:
47
g
Saturated Fat:
44
g
Sodium:
4
mg
Potassium:
17
mg
Fiber:
0.1
g
Sugar:
30
g
Iron:
12
%
Instructions
Whisk the coconut cream in a large bowl with a stand or mixer for 1-3 minutes at high speed.

Add the honey and vanilla and continue beating to incorporate.

If the mixture is too thick to become fluffy, add 1 teaspoon of water or coconut water and beat again.