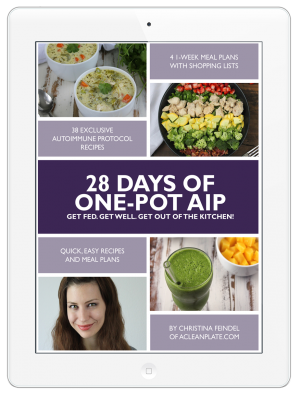 One of the biggest challenges to actually putting the autoimmune protocol into practice is finding the time and energy to cook compliant meals every. single. day. You have to find recipes, make a plan, buy the ingredients, cook the food, and then clean up the kitchen afterwards. I can't clean your kitchen for you, but I can get you started with the rest–and provide easy one-pot meals so there isn't much cleanup to do in the first place! My meal plans take the fuss out of finding recipes and utilize a wide variety of easy-to-find ingredients without requiring a lot of time in the kitchen. You can combine the plan with recipes you like or want to try from elsewhere, make double batches so that you have even more leftovers for easy meals down the road, and–best of all–spend less time in the kitchen so that you can get back out there and live your life.

Why Did I Write This Book?
I love food. I love eating it. But I don't really love cooking it. When I started the autoimmune protocol three years ago, I didn't like agonizing over what I was going to put on the table and I definitely didn't like being hungry, not having any leftovers, and being too tired or busy to cook. Who does? At the end of the day, I just wanted something simple, easy, inexpensive, and–most importantly of all–tasty to chow down on, and then I wanted to get the heck out of the kitchen! Thus, 28 Days of One-Pot AIP was born. All of my recipes are simple, requiring only one dish to make without sacrificing flavor or nutritional value. This e-book combines four one-week meal plans I've used time and time again in my past few years on the AIP to guarantee that I'm getting all the nutrition my body needs to heal. This e-book:
eases beginners into the autoimmune protocol with no-fuss, inexpensive food
provides anyone struggling to stick to the AIP meal plans and shopping lists for getting back on track
showcases the huge variety of cuisines and flavors available even on this restricted diet
is perfect for small kitchens, busy or low-energy chefs, and anyone just plain looking to simplify
I hope that with my simple recipes, batch cooking tips, and the variety of flavors and ingredients I have used, you will find the AIP not only do-able, but enjoyable! So, let's get cooking so that you can get fed, get well, and get out of the kitchen!
28 Days of One-Pot AIP Features
4 1-week meal plans with shopping lists
38 exclusive new recipes including Lamb Biryani, Seafood and Veggie Curry, Ahi Poke Salad, and more!
Tips for saving time and energy in the kitchen
Reliable resources for additional information and recipes for the autoimmune protocol
Printer-friendly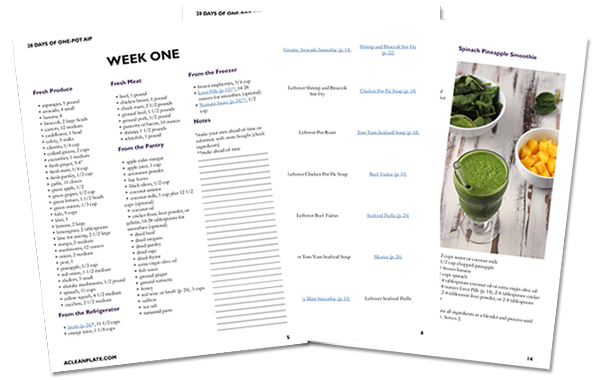 F.A.Q.s
Where do I download the e-book? Upon payment, the download link will be sent to your PayPal e-mail address. Please make sure you update your PayPal e-mail address during checkout if it is not the same as the e-mail address you would like the e-book sent to. If you are having trouble downloading the book on a mobile device, try using a computer instead.
How can I view this e-book? In any PDF reader (such as Adobe Reader for computers or PDF Reader for Apple devices) on any web-friendly device (such as computers, tablets, and smart phones).
Does this e-book work in Kindle or Nook? Kindle and Nook are not link-friendly, so the links in this e-book will not work in Kindle or Nook. You can still read it, but will not be able to pull up links online. See above for recommended programs.
Do I need internet access to use this e-book? You will need internet access to download the e-book and also to open the occasional links printed in the e-book.
What is your refund policy? The e-book cannot be returned after it has been downloaded. If you have not yet used your download link, you can reply to your confirmation e-mail for a full refund.