My partner and I are big fans of the Great British Bake Off, and at first, we struggled with constant sugar cravings. All those cakes and pastries look delicious! We were torturing ourselves. Sure, I could try to adapt some of the recipes for our Paleo diets (if not the AIP), but I've never been a terribly good baker and was afraid I'd ruin everything I tried. And then, finally, we saw it: The Victoria Sandwich. I already had a perfectly-good vanilla cake recipe. Swap the buttercream filling for some coconut whipped cream, and I've already got that covered, too. What's more, it was a good excuse to whip up my favorite Chocolate Raspberry Preserves! Sure, the original recipe doesn't feature chocolate, but it's easy enough to leave that out for you purists out there. For me, this was the perfect salve for our GBBO-induced sugar cravings, a dessert that's both simple and elegant. And, of course, delicious!
Looking for Low-FODMAP Recipes?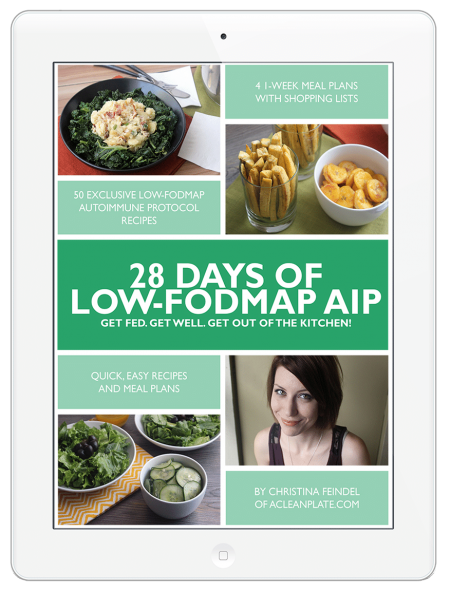 The low-FODMAP diet is often prescribed for people with IBS or Small Intestinal Bacterial Overgrowth (SIBO), and there's a huge overlap of that demographic with people with autoimmune disease. My e-book
28 Days of Low-FODMAP AIP
combines both IBS- and autoimmune-friendly diets in a 28-day meal plan designed to jump start and simplify this often-challenging diet change. Just you wait: The meal plan includes 50 exclusive low-FODMAP recipes you won't find on my website or anywhere else, with dishes like Chicken Vindalo, Jambalaya, and crispy, crunchy Tostones. You'll be amazed at the variety of flavors still available to you! The ebook is available as a digital download for 
$9.99
.
Instructions
Using two 8" rounds, make the cakes according to their recipe. While they're in the oven, make the preserves and whipped cream.

Turn out one of the cakes onto a cake stand or platter and evenly coat the top of it with the raspberry preserves.

Carefully spread or pipe the whipped cream on to avoid disturbing the preserves beneath it.

Turn the other cake out on top of the whipped cream to make a sandwich. Sprinkle the top with coconut sugar.