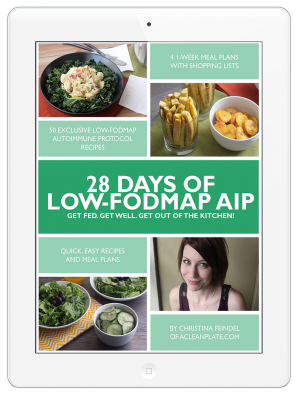 One of the biggest challenges to putting the autoimmune protocol into practice is finding the time and energy to cook compliant meals every. single. day. You have to find recipes, make a plan, buy the ingredients, cook the food, and then clean up the kitchen afterwards. And when you throw in additional restrictions like low-FODMAP? Forget about it! My new low-FODMAP AIP meal plans take the fuss out of finding recipes and utilize a wide variety of easy-to-find ingredients without requiring a lot of time in the kitchen. You can combine the plan with recipes you like or want to try from elsewhere, make double batches so that you have even more leftovers for easy meals down the road, and – best of all – spend less time in the kitchen so that you can get back out there and live your life.

Why Did I Write This Book?
While the number of resources available to those undertaking the autoimmune protocol has grown exponentially in the past year, there are very few resources for anyone on the autoimmune protocol who must also restrict FODMAPs due to gastrointestinal issues like IBS or SIBO. As if no grains, legumes, dairy, eggs, nightshades, nuts, seeds, or alcohol wasn't daunting enough, a low-FODMAP diet also eliminates foods high in "fermentable oligosaccharides, disaccharides, monosaccharides, and polyols" (FODMAPs), which can produce symptoms like constipation, diarrhea, bloating, gas, or belching. Many of these high-FODMAP fruits and vegetables are staples of the autoimmune protocol, leaving many wondering "what can I eat?" With this guide, you'll find:
simple, nutritious recipes requiring a minimal amount of time and effort
a huge selection of cuisines and flavors showcasing the variety available even on this restricted diet
meal plans and shopping lists take the guesswork out of finding recipes and stocking your kitchen
I hope that with my simple recipes, batch cooking tips, and the variety of flavors and ingredients I have used, you will find that a low-FODMAP AIP is not only do-able, but enjoyable! So, let's get cooking so that you can get fed, get well, and get out of the kitchen!
28 Days of Low-FODMAP AIP Features
4 1-week meal plans with shopping lists
50 exclusive low-FODMAP AIP recipes including Jambalaya, Chicken Vindaloo, and more!
Tips for saving time in the kitchen
Reliable resources for additional information on the autoimmune protocol and FODMAPs
Printer-friendly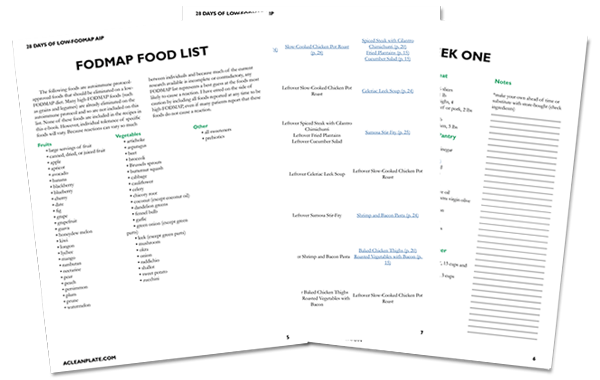 F.A.Q.s
Where do I download the e-book? Upon payment, the download link will be sent to your PayPal e-mail address. Please make sure you update your PayPal e-mail address during checkout if it is not the same as the e-mail address you would like the e-book sent to. If you are having trouble downloading the book on a mobile device, try using a computer instead.
How can I view this e-book? In any PDF reader (such as Adobe Reader for computers or PDF Reader for Apple devices) on any web-friendly device (such as computers, tablets, and smart phones).
Does this e-book work in Kindle or Nook? Kindle and Nook are not link-friendly, so the links in this e-book will not work in Kindle or Nook. You can still read it, but will not be able to pull up links online. See above for recommended programs.
Do I need internet access to use this e-book? You will need internet access to download the e-book and also to open the occasional links printed in the book.
Is this e-book compliant with the Monash guidelines? Yes, at the time of publication.
What is your refund policy? The e-book cannot be returned after the download link has been used. Think of it like trying to return a DVD that has already been opened.
What are People Saying?
Having struggled with SIBO, I have come to rely on Low FODMAP meals within the AIP template and am so happy about the enticing recipes in 28 Day of Low-FODMAP AIP! The best thing is that Christina's offers delicious low FODMAP recipes with an international flare. From Greek lamb burgers with kalamata olives to, Jambalaya, Samosas and Chicken Shwarma, this resource is a more than welcome contribution to anyone needing to embark on a tasty Low-FODMAP diet that is also AIP friendly. – Anne Angelone
One of my frustrations when starting the AIP was that – as much as I loved cooking – I felt I spent all my time in the kitchen. Christina's book helps with this as she gives great tips how to save time in the kitchen. Just having all the meal plans and shopping lists feels very supportive when you are navigating the new diet and for sure saves time planning. – Sirpa Kaajakari