Nothing says fall like Spiced Apple Cider! Embracing apples' natural sweetness, it has only 3 ingredients and 5 minutes of prep. This is one of my favorite ways to use the Instant Pot's slow-cooker setting, because it will fill the house with such wonderful scents. Personally, I like to keep my cider simple, but if you want to try something different? Use grape or cranberry juice instead of the apple juice, or split one of them 50/50 with it. You can also vary up the seasoning with some lemon zest, orange slices, or ginger instead of or in addition to the cinnamon and cloves! And for an especially decadent treat, stir in 1/2-3/4 cup caramel sauce for caramel apple cider. (It'll still be AIP-friendly if you use Sweet Apricity's, or make your own.)
Looking for AIP-Friendly Breakfast Recipes?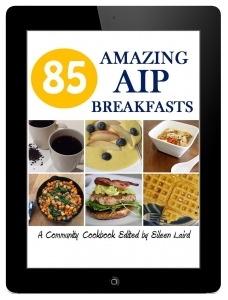 What to eat for breakfast is one of the most common questions I get from people starting the autoimmune protocol. I understand completely: With all my old staples off the table, breakfast was my biggest challenge, too. Well, now there's an easy answer. 85 Amazing AIP Breakfasts is a community e-cookbook featuring dozens of breakfast-friendly autoimmune protocol recipes from some of your favorite bloggers. With coffee substitutes, comforting teas, sausage, waffles, stir-fries, soups, hash, muffins, and porridge, 85 Amazing AIP Breakfasts has just about every one of your breakfast needs covered, sweet and savory alike. Many of the recipes can even be adapted for a low-FODMAP diet! The e-cookbook is available on editor Eileen Laird's website.
Total Time:
4
hours
5
minutes
Nutrition Facts
Calories:
112
kcal
Carbohydrates:
28
g
Protein:
0.1
g
Fat:
0.3
g
Saturated Fat:
0.05
g
Polyunsaturated Fat:
0.1
g
Monounsaturated Fat:
0.01
g
Sodium:
7
mg
Potassium:
282
mg
Fiber:
0.2
g
Sugar:
26
g
Vitamin C:
44
%
Calcium:
2
%
Iron:
5
%
Instructions
Combine all ingredients in a slow cooker and cook on high for 4 hours.

Strain out the cinnamon sticks and whole cloves, then serve hot.