I have to admit that before attempting to create this recipe, I'd never had a Chicken Caesar Salad before. All I knew about them was that the dressing contained anchovies, which was enough for me to say "no thank you". Not that I'd ever had anchovies before. It was an aversion I picked up from my mom, whose hatred of anchovies came up every time we ordered pizza. I just assumed they were nasty. But when I started the autoimmune protocol, it awoke a sense of adventure in me. Trying new things was fun and it turns out that anchovies are really quite tasty. They add an almost MSG-like depth and saltiness to dishes, making them the perfect addition to a rich, creamy salad dressing. This autoimmune protocol version of Chicken Caesar Salad keeps things simple. The dressing contains only five ingredients (though you can certainly add a drizzle of lemon, extra virgin olive oil, or garlic if you like) and the salad itself is just chicken, lettuce, and olives. And yet it's a riot of flavor, making this a wonderful one-dish meal for four or small side salad for larger groups.
Looking for more easy AIP recipes?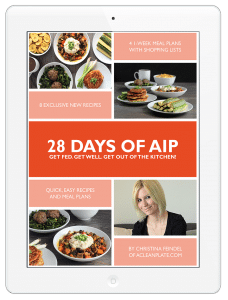 I know diet change can feel overwhelming. I started the autoimmune protocol at a time when only four other people were writing about it, and over the years, I've striven to give you the resources I wish I'd had when I got started. Not just recipes, but ways to implement them. My first ebook 28 Days of AIP is a meal plan that will help you get going (or get back on the wagon) with as little fuss as possible. With a variety of simple, delicious recipes, plenty of leftovers so you don't spend all your free time in the kitchen, and shopping lists ready to go, all you have to do is follow the plan, then sit down and enjoy your meal! It's available as a digital download for $9.99.
Nutrition Facts
Calories:
280
kcal
Carbohydrates:
5
g
Protein:
35
g
Fat:
13
g
Saturated Fat:
4
g
Polyunsaturated Fat:
2
g
Monounsaturated Fat:
6
g
Cholesterol:
98
mg
Sodium:
1191
mg
Potassium:
311
mg
Fiber:
2
g
Sugar:
2
g
Vitamin A:
550
IU
Vitamin C:
5.8
mg
Calcium:
80
mg
Iron:
2.9
mg
Instructions
Place the chicken and broth in a saucepan and bring to a boil. Reduce the heat to medium and simmer 10-15 minutes or until the chicken is cooked through.

In a mixing bowl, combine the coconut cream, anchovies, parsley, green onions, and salt.

To serve, layer four salad bowls with equal parts lettuce, chicken, dressing, and black olives.