Yogurt topped with nuts, granola, sliced fruit, and a bit of honey was my go-to breakfast as I was becoming an adult. Forget the sugary cereals of my youth and screw the boring "adult" cereals–I wanted to start my days with something healthy and sugary! I did this for several years before starting the autoimmune protocol. And I didn't really miss it because I was so excited about trying new things, but every now and then I come across a delectable-looking recipe that calls for yogurt. Coconut milk is often a good sub in a pinch, but after four years on the AIP, I figured it was past time I try my hand at Coconut Yogurt. Now those of you that are still in the thick of your love affair with the probiotic treat can have a dairy-free, additive-free alternative!
You should be able to use any multi-strain probiotic for this recipe (I used Kirkman Pro-bio Gold). You'll need sterilized mason jars to accommodate about two quarts of yogurt. It may separate in the fridge because coconut milk tends to do that, so just give it a good stir before use. Enjoy!
Looking for Some Simple AIP Recipes?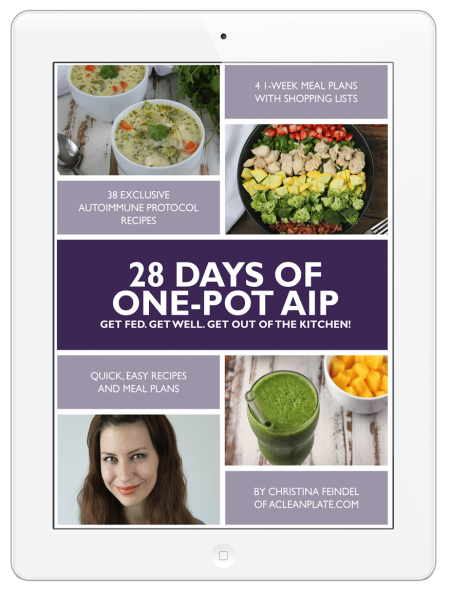 When you're dealing with fatigue, pain, or illness, eating healthy is hard enough without having to multitask while cooking or clean up a huge mess afterwards. That's why one-pot meals are my favorite. 28 Days of One-Pot AIP is exactly what it sounds like: A 28-day meal plan featuring only 100% autoimmune protocol, one-pot recipes. There's an intro to explain the AIP and one-pot cooking and the preparation is so much simpler when you've only got one thing to keep track of. Plus, you'll be amazed at the variety of flavors still available to you, like my Chicken Pot Pie Soup, satisfying green smoothies, and colorful salads! The e-book is now available for $9.99.
Nutrition Facts
Calories:
503
kcal
Carbohydrates:
12
g
Protein:
6
g
Fat:
47
g
Saturated Fat:
44
g
Sodium:
3
mg
Sugar:
6
g
Iron:
2.2
mg
Instructions
Divide the coconut cream and probiotic powder evenly between each of your jars and mix well, then cap the jars.

Place in a yogurt maker or Instant Pot with yogurt setting and follow the manufacturer's instructions for yogurt. (In the Instant Pot, this takes about 12 hours).

Refrigerate before serving.