Yogurt topped with nuts, granola, sliced fruit, and a bit of honey was my go-to breakfast as I was becoming an adult. Forget the sugary cereals of my youth and screw the boring "adult" cereals–I wanted to start my days with something healthy and sugary! I did this for several years before starting the autoimmune protocol. And I didn't really miss it because I was so excited about trying new things, but every now and then I come across a delectable-looking recipe that calls for yogurt. Coconut milk is often a good sub in a pinch, but after four years on the AIP, I figured it was past time I try my hand at Coconut Yogurt. Now those of you that are still in the thick of your love affair with the probiotic treat can have a dairy-free, additive-free alternative!
You should be able to use any multi-strain probiotic for this recipe (I used Kirkman Pro-bio Gold). You'll need sterilized mason jars to accommodate about two quarts of yogurt. It may separate in the fridge because coconut milk tends to do that, so just give it a good stir before use. Enjoy!
All-natural, organic makeup and skin care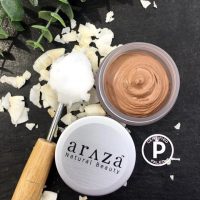 Araza Natural Beauty, founded by two sisters with Celiac disease, is the first Paleo-certified beauty company to offer a full range of products for skin, eyes, cheeks, and lips–all of which are additive, dairy, and gluten free. In all my years of experimenting with natural makeup, this has become my favorite, fool-proof brand for everyday looks!
Nutrition Facts
Calories:
503
kcal
Carbohydrates:
12
g
Protein:
6
g
Fat:
47
g
Saturated Fat:
44
g
Sodium:
3
mg
Sugar:
6
g
Iron:
2.2
mg
Instructions
Divide the coconut cream and probiotic powder evenly between each of your jars and mix well, then cap the jars.

Place in a yogurt maker or Instant Pot with yogurt setting and follow the manufacturer's instructions for yogurt. (In the Instant Pot, this takes about 12 hours).

Refrigerate before serving.