Yogurt topped with nuts, granola, sliced fruit, and a bit of honey was my go-to breakfast as I was becoming an adult. Forget the sugary cereals of my youth and screw the boring "adult" cereals–I wanted to start my days with something healthy and sugary! I did this for several years before starting the autoimmune protocol. And I didn't really miss it because I was so excited about trying new things, but every now and then I come across a delectable-looking recipe that calls for yogurt. Coconut milk is often a good sub in a pinch, but after four years on the AIP, I figured it was past time I try my hand at Coconut Yogurt. Now those of you that are still in the thick of your love affair with the probiotic treat can have a dairy-free, additive-free alternative!
You should be able to use any multi-strain probiotic for this recipe (I used Kirkman Pro-bio Gold). You'll need sterilized mason jars to accommodate about two quarts of yogurt. It may separate in the fridge because coconut milk tends to do that, so just give it a good stir before use. Enjoy!
Keep Your Health on Track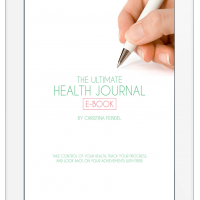 Whether you're starting the autoimmune protocol, a new medication, an exercise routine or trying to get to the bottom of your headaches or indigestion, cataloging your activities and symptoms is a great way to gauge your progress. The Ultimate Health Journal can help you stay on track with diet, fitness, and other lifestyle changes you have begun or been prescribed, notice patterns in your health and lifestyle so you can enact positive changes, and provide a valuable tool for you, your family, and your healthcare team. I would never have noticed that cinnamon makes me sneeze or dairy gives me hiccups without keeping a written record during my elimination diet, which helped me see the patterns that solved my problems! The ebook is available as a digital download with printable template for $6.99.
Nutrition Facts
Calories:
503
kcal
Carbohydrates:
12
g
Protein:
6
g
Fat:
47
g
Saturated Fat:
44
g
Sodium:
3
mg
Sugar:
6
g
Iron:
2.2
mg
Instructions
Divide the coconut cream and probiotic powder evenly between each of your jars and mix well, then cap the jars.

Place in a yogurt maker or Instant Pot with yogurt setting and follow the manufacturer's instructions for yogurt. (In the Instant Pot, this takes about 12 hours).

Refrigerate before serving.