I first made this Bananas Foster Parfait in the summer of 2012 for an autoimmune protocol cookbook I never wound up finishing. Along with many dozens of others tucked away in that dusty file on my hard drive, this was one of the first autoimmune protocol recipes I ever developed… and probably one of my all-time favorite quick-and-easy treats… that got completely forgotten amidst all the other things I've been doing in the years since. Well, I thought it was high time I dug out some of those oldies-but-goodies and put them to good use. You're going to start seeing some of them roll out here on A Clean Plate after a bit of re-testing and re-shooting (because, let's face it, what was tasty and original four years ago might not be tasty and original today).
I decided to start with this one because it's not only crazy delicious, but super simple and so very versatile. This AIP version is served with whipped coconut cream but could also be served with coconut yogurt or your favorite AIP ice cream. And if you do dairy, plain old whipped cream, yogurt, or ice cream could also be used. And as long as we're talking about substitutions, you can use a quarter cup of actual rum in lieu of the extract and cook it down nice and sticky if that's what you've got on hand. This recipe even works out okay (or maybe even better) if a couple of your bananas (the ones that get cooked) are a bit overripe. Really, as long as you've got some bananas and a bit of sugar, this is a recipe you could make right now!
Reasons You Should Make a Bananas Foster Parfait Right Now
It's easy
It's delicious
It's easy and delicious
Seriously. What are you waiting for?
Keep Your Health on Track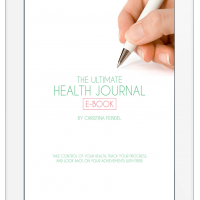 Whether you're starting the autoimmune protocol, a new medication, an exercise routine or trying to get to the bottom of your headaches or indigestion, cataloging your activities and symptoms is a great way to gauge your progress. The Ultimate Health Journal can help you stay on track with diet, fitness, and other lifestyle changes you have begun or been prescribed, notice patterns in your health and lifestyle so you can enact positive changes, and provide a valuable tool for you, your family, and your healthcare team. I would never have noticed that cinnamon makes me sneeze or dairy gives me hiccups without keeping a written record during my elimination diet, which helped me see the patterns that solved my problems! The ebook is available as a digital download with printable template for $6.99.
Nutrition Facts
Calories:
337
kcal
Carbohydrates:
37
g
Protein:
3
g
Fat:
21
g
Saturated Fat:
15
g
Polyunsaturated Fat:
1
g
Monounsaturated Fat:
4
g
Cholesterol:
45
mg
Sodium:
78
mg
Potassium:
511
mg
Fiber:
3
g
Sugar:
22
g
Vitamin A:
500
IU
Vitamin C:
14
mg
Calcium:
70
mg
Iron:
0.4
mg
Instructions
Heat the oil in a medium-sized skillet over medium heat. Add two of the bananas and the honey to the pan and stir-fry until the bottom of the pan is beginning to brown, about 5 minutes. It's okay if the bananas get mashed into kind of a thick paste.

Stir in the rum extract, then remove from heat.

Divide the remaining, uncooked banana slices evenly between four serving bowls. Add 1/4 of the mashed banana mixture on top of each, then top each with 1/4 cup whipped cream.

Refrigerate before serving.