You might think that a pizza without crust, cheese, or tomato sauce is pointless. I guess I agree–you can hardly call a crustless, cheeseless, sauceless dish a "pizza" no matter what it looks like. Enter "meatza"! Meatza replaces crust with a thin layer of seasoned meat upon which you can add your favorite sauce and toppings. For those of us on the autoimmune protocol, it is a fun and healthy way to enjoy something like everyone's favorite finger food. I've served it at game nights to perplexed but delighted guests with nary a complaint. Feel free to use whatever kind of meat you like. Some of my other favorite toppings include prosciutto with arugula and fig preserves or sliced pears (inspired by a really good local pizza I wish I could still eat)!
Budget-Friendly AIP Cookbook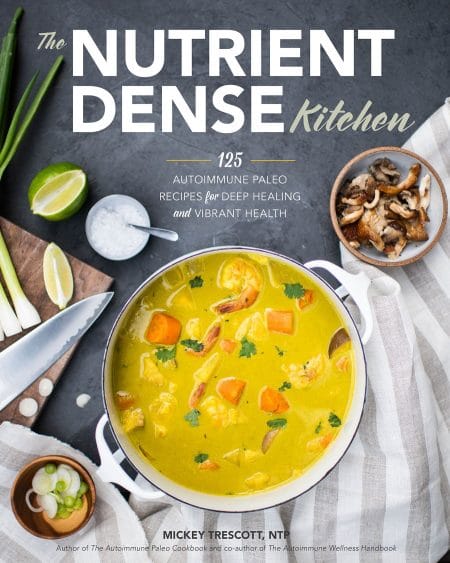 The Nutrient Dense Kitchen is a beautiful, simple cookbook all about helping you understand which ingredients will give you the most nutritional bang for your buck, and showing you how to incorporate them into your diet in efficient, budget-friendly, and delicious ways. With 125 AIP recipes and 5 meal plans, it's a cookbook you're guaranteed to cherish. Now available on Amazon.
Nutrition Facts
Calories:
330
kcal
Carbohydrates:
3
g
Protein:
30
g
Fat:
22
g
Saturated Fat:
8
g
Polyunsaturated Fat:
1
g
Monounsaturated Fat:
10
g
Cholesterol:
101
mg
Sodium:
678
mg
Potassium:
447
mg
Fiber:
1
g
Sugar:
1
g
Vitamin A:
2
%
Vitamin C:
8
%
Calcium:
6
%
Iron:
20
%
Instructions
Preheat the oven to 350 degrees F.

Combine the ground meat and spices and mix well.

Line a rimmed baking sheet with parchment paper or a silicone liner. Spread the meat over the sheet, flattening it evenly to about 1/4".

Bake for 10 minutes or until cooked through.

Transfer to a pizza stone or a wire rack on top of a baking sheet. Add the sauce and toppings, then return to the oven for 10 minutes or until the toppings are cooked.