This is a great winter treat. I think I even prefer it to hot chocolate! The recipe below is AIP-friendly, but I actually tend to make it with whole milk because I tolerate dairy better than I do non-dairy milks. But that just goes to show that the recipe works well regardless of what kind of milk you prefer! For a more decadent treat after reintroductions, you can also use melted white chocolate instead of the coconut butter.
Need a Break From Cooking?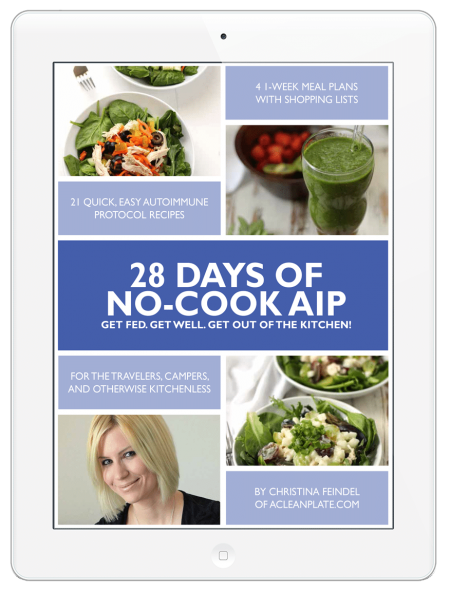 Whether you're traveling, moving, or just tired of spending so much time in the kitchen, 28 Days of No-Cook AIP can help. With four one-week meal plans designed for lazy days and/or a poorly-stocked kitchen, these simple dishes (including but not limited to salads, wraps, and smoothies) will make sticking to your autoimmune protocol diet during business trips, holiday travel, and times of illness or stress a lot easier! The e-book is now available as a digital download for $9.99.
Nutrition Facts
Calories:
473
kcal
Carbohydrates:
23
g
Protein:
3
g
Fat:
42
g
Saturated Fat:
36
g
Sodium:
61
mg
Potassium:
10
mg
Fiber:
1
g
Sugar:
15
g
Iron:
6
%
Instructions
Combine all ingredients in a small saucepan and heat through at a simmer, then serve hot.