This is a great winter treat. I think I even prefer it to hot chocolate! The recipe below is AIP-friendly, but I actually tend to make it with whole milk because I tolerate dairy better than I do non-dairy milks. But that just goes to show that the recipe works well regardless of what kind of milk you prefer! For a more decadent treat after reintroductions, you can also use melted white chocolate instead of the coconut butter.
Struggling to Start the Autoimmune Protocol?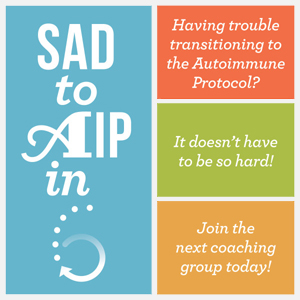 Living with chronic illness can be isolating enough without overhauling your lifestyle, often without the full support of family members who don't want their diets to change. But you don't have to go through it alone. SAD to AIP in SIX, from Nutritional Therapy Practitioner and author of The Alternative Autoimmune Cookbook Angie Alt, will coach you step-by-step through the transition from the standard American diet (SAD) to the autoimmune protocol (AIP). The six-week course includes coaching from Angie and her team, support from your peers in the program, and reference materials–it's an incredible bargain compared to private health coaching sessions. If you're struggling to make the change to the AIP or feeling isolated on your health journey, this is the program for you!
Nutrition Facts
Calories:
473
kcal
Carbohydrates:
23
g
Protein:
3
g
Fat:
42
g
Saturated Fat:
36
g
Sodium:
61
mg
Potassium:
10
mg
Fiber:
1
g
Sugar:
15
g
Iron:
6
%
Instructions
Combine all ingredients in a small saucepan and heat through at a simmer, then serve hot.