We've all got food aversions, and I'm no exception. Sometimes they're there because of vivid memories of getting sick on seafood or being force-fed your veggies. Other times… they just exist, and you can't quite figure out why. That's how I feel about winter squash. It was just never something I could bring myself to swallow. Maybe it was the mushy texture or maybe it was the not-quite-sweet flavor. Even the fall favorite, pumpkin, just didn't do it for me, whether it was a pie, puree, or latte. But when you embrace a whole-foods diet like the autoimmune protocol, it's a bit more fun if you do it with a sense of adventure. So, every fall, I try to find at least one new way to cook squash that actually makes me want to eat it. Usually when people cook squash, they drown it in butter and brown sugar, but a recent encounter with my mom's twice-baked potatoes (a staple for her) got me thinking… why not twice-bake other starchy vegetables? Combined with coconut milk and a few simple fall seasonings, this Twice-Baked Butternut Squash comes out a creamy, melt-in-your-mouth puree vaguely reminiscent of pumpkin pie. If you aren't following the AIP, replace the shredded coconut with marshmallows or serve with a dollop of whipped cream!
Struggling with thyroid disease?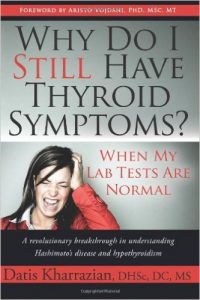 Why Do I Still Have Thyroid Symptoms? by functional medicine practitioner Datis Kharrazian is single-handedly responsible for my improved health over the past few years. It introduced me to the connection between autoimmune disease and lifestyle factors like diet at a time when my doctors were telling me there was nothing wrong with my thyroid even though I had high antibodies. This book gave me the information I needed to get the right tests ordered and seek proper treatment. It's a must-have guide for anyone who has already been diagnosed with thyroid disease, who is at risk due to family history, or who strongly suspects they may have it but isn't sure where to start. I can't recommend it enough!
Total Time:
1
hour
15
minutes
Nutrition Facts
Calories:
218
kcal
Carbohydrates:
35
g
Protein:
3
g
Fat:
10
g
Saturated Fat:
9
g
Polyunsaturated Fat:
0.1
g
Monounsaturated Fat:
0.04
g
Sodium:
75
mg
Potassium:
818
mg
Fiber:
7
g
Sugar:
9
g
Vitamin A:
481
%
Vitamin C:
79
%
Calcium:
11
%
Iron:
12
%
Instructions
Preheat the oven to 350 degrees F. Place the squash halves cut-side down on a baking sheet, and roast for 60-90 minutes, until the flesh is easily scooped out of the skin with a fork.

Raise the oven to 425 degrees F. Remove the flesh from one of the squash halves and set the flesh aside, discarding the shell. Hollow out the remaining squash half, leaving about 1/4" of flesh attached to the skin so that the squash will keep its shape.

Combine all of the removed flesh with the remaining ingredients except coconut in a blender. Puree until well-combined.

Pour the puree into the hollowed-out squash half and sprinkle with coconut flakes.

Bake 5-10 minutes, or until golden-brown on top.