When my husband and I go out for Thai, we always order a small bowl of Tom Yum Soup or Tom Kha Gai to share as an appetizer. I prefer Tom Yum and he prefers Tom Kha Gai, so we try to rotate between the two. You'll see different versions of Tom Yum Soup wherever you go, but it is mostly known for its savory yellow-orange broth, featuring turmeric and mushrooms, and also for being fairly spicy. While this version doesn't use the chili oil or paste some of our local versions do, it still manages to pack a lot of flavor! And thanks to anti-inflammatory ingredients like turmeric and bone broth, it's a wonderfully soothing dish if you happen to be suffering from a winter cold. In fact, I break out this recipe any time one of us has the sniffles the same way my mom used to stock up on cans of chicken noodle. Since this is ready in 30 minutes with hardly any prep involved (especially if your mushrooms come pre-sliced), it's simple enough to throw together even when all you want to do is crawl under the covers with a box of tissues and a good book!
Are you suffering from adrenal fatigue?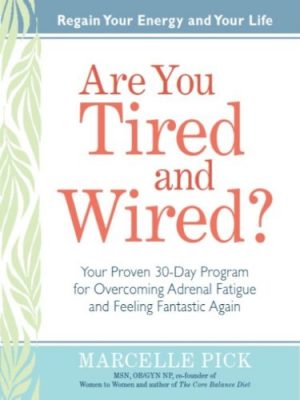 Are You Tired and Wired? is one of my favorite books on adrenal fatigue with chronic illness. It's a comprehensive yet straightforward examination of the factors at work and home that contribute to chronic adrenal dysfunction and the diet, lifestyle adjustments, and emotional reprogramming that can help fix it. A healthcare provider with a focus on women's health, Marcelle Pick will help you identify what type of adrenal dysfunction you suffer from and provide an easy-to-follow, science-based program to help you restore balance to your life. I found it extremely helpful with my own chronic fatigue!
Nutrition Facts
Calories:
170
kcal
Carbohydrates:
18
g
Protein:
5
g
Fat:
9
g
Saturated Fat:
7
g
Polyunsaturated Fat:
1
g
Monounsaturated Fat:
1
g
Sodium:
2126
mg
Potassium:
522
mg
Fiber:
4
g
Sugar:
6
g
Vitamin A:
21
%
Vitamin C:
19
%
Calcium:
4
%
Iron:
16
%
Instructions
In a medium saucepan, heat the fat over medium heat.

Stir-fry the mushrooms until tender, then add the remaining ingredients except cilantro and bring to a simmer.

Cook about 15 minutes, then serve hot, garnished with the cilantro.