When my husband and I go out for Thai, we always order a small bowl of Tom Yum Soup or Tom Kha Gai to share as an appetizer. I prefer Tom Yum and he prefers Tom Kha Gai, so we try to rotate between the two. You'll see different versions of Tom Yum Soup wherever you go, but it is mostly known for its savory yellow-orange broth, featuring turmeric and mushrooms, and also for being fairly spicy. While this version doesn't use the chili oil or paste some of our local versions do, it still manages to pack a lot of flavor! And thanks to anti-inflammatory ingredients like turmeric and bone broth, it's a wonderfully soothing dish if you happen to be suffering from a winter cold. In fact, I break out this recipe any time one of us has the sniffles the same way my mom used to stock up on cans of chicken noodle. Since this is ready in 30 minutes with hardly any prep involved (especially if your mushrooms come pre-sliced), it's simple enough to throw together even when all you want to do is crawl under the covers with a box of tissues and a good book!
Treat Your Sweet Tooth!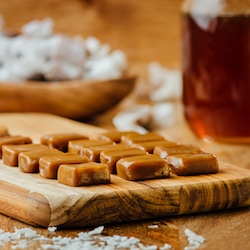 Being on a restricted diet doesn't mean you have to give up every indulgence. Temptation can be rough, and when it strikes, it's nice to have something on hand that's safe to eat. Enter Sweet Apricity. They make creamy, delicious caramels and fluffy marshmallows that just so happen to be 100% autoimmune protocol-friendly. With excellent customer service, high-quality ingredients, a subscribe and save program, and some of the most incredible sweets you'll encounter on the AIP, your sweet tooth doesn't have to go wanting. Plus, they're a great gift for anyone with food sensitivities! Get 10% off with coupon code CleanPlateHolidays now through January 30th, 2020!
Nutrition Facts
Calories:
170
kcal
Carbohydrates:
18
g
Protein:
5
g
Fat:
9
g
Saturated Fat:
7
g
Polyunsaturated Fat:
1
g
Monounsaturated Fat:
1
g
Sodium:
2126
mg
Potassium:
522
mg
Fiber:
4
g
Sugar:
6
g
Vitamin A:
1050
IU
Vitamin C:
15.7
mg
Calcium:
40
mg
Iron:
2.9
mg
Instructions
In a medium saucepan, heat the fat over medium heat.

Stir-fry the mushrooms until tender, then add the remaining ingredients except cilantro and bring to a simmer.

Cook about 15 minutes, then serve hot, garnished with the cilantro.