When my husband and I go out for Thai, we always order a small bowl of Tom Yum Soup or Tom Kha Gai to share as an appetizer. I prefer Tom Yum and he prefers Tom Kha Gai, so we try to rotate between the two. You'll see different versions of Tom Yum Soup wherever you go, but it is mostly known for its savory yellow-orange broth, featuring turmeric and mushrooms, and also for being fairly spicy. While this version doesn't use the chili oil or paste some of our local versions do, it still manages to pack a lot of flavor! And thanks to anti-inflammatory ingredients like turmeric and bone broth, it's a wonderfully soothing dish if you happen to be suffering from a winter cold. In fact, I break out this recipe any time one of us has the sniffles the same way my mom used to stock up on cans of chicken noodle. Since this is ready in 30 minutes with hardly any prep involved (especially if your mushrooms come pre-sliced), it's simple enough to throw together even when all you want to do is crawl under the covers with a box of tissues and a good book!
Looking for Some Simple AIP Recipes?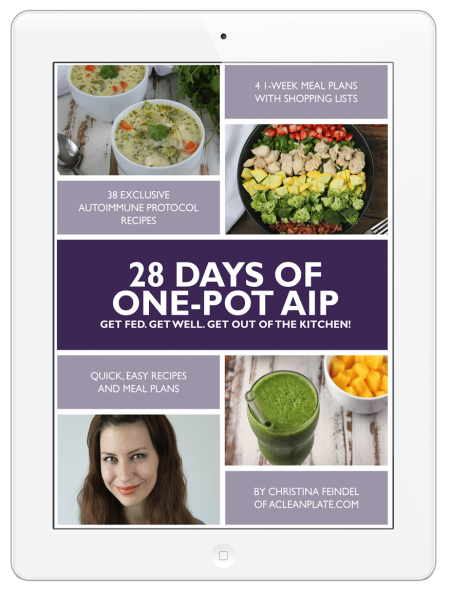 When you're dealing with fatigue, pain, or illness, eating healthy is hard enough without having to multitask while cooking or clean up a huge mess afterwards. That's why one-pot meals are my favorite. 28 Days of One-Pot AIP is exactly what it sounds like: A 28-day meal plan featuring only 100% autoimmune protocol, one-pot recipes. There's an intro to explain the AIP and one-pot cooking and the preparation is so much simpler when you've only got one thing to keep track of. Plus, you'll be amazed at the variety of flavors still available to you, like my Chicken Pot Pie Soup, satisfying green smoothies, and colorful salads! The e-book is now available for $9.99.
Nutrition Facts
Calories:
170
kcal
Carbohydrates:
18
g
Protein:
5
g
Fat:
9
g
Saturated Fat:
7
g
Polyunsaturated Fat:
1
g
Monounsaturated Fat:
1
g
Sodium:
2126
mg
Potassium:
522
mg
Fiber:
4
g
Sugar:
6
g
Vitamin A:
1050
IU
Vitamin C:
15.7
mg
Calcium:
40
mg
Iron:
2.9
mg
Instructions
In a medium saucepan, heat the fat over medium heat.

Stir-fry the mushrooms until tender, then add the remaining ingredients except cilantro and bring to a simmer.

Cook about 15 minutes, then serve hot, garnished with the cilantro.