With lots of seasoning and savory mushrooms, this Thai Whitefish Curry works well with cod, tilapia, or any other whitefish you like. The robust flavors do a good job of masking any fishy flavors if you happen to have picky eaters in the house like I do. (It's me. I'm the picky eater.) You can adjust the aminos and sea salt to taste or add a splash of fish sauce for an even bigger umami zing, and if you can't get a hold of shiitake mushrooms, generic button mushrooms work just as well.
Treat Your Sweet Tooth!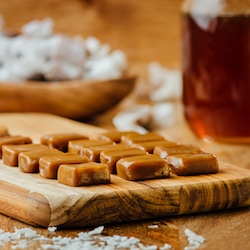 Being on a restricted diet doesn't mean you have to give up every indulgence. Temptation can be rough, and when it strikes, it's nice to have something on hand that's safe to eat. Enter Sweet Apricity. They make creamy, delicious caramels and fluffy marshmallows that just so happen to be 100% autoimmune protocol-friendly. With excellent customer service, high-quality ingredients, a subscribe and save program, and some of the most incredible sweets you'll encounter on the AIP, your sweet tooth doesn't have to go wanting. Plus, they're a great gift for anyone with food sensitivities! Get 10% off with coupon code CleanPlateHolidays now through January 30th, 2020!
Nutrition Facts
Calories:
410
kcal
Carbohydrates:
21
g
Protein:
26
g
Fat:
24
g
Saturated Fat:
16
g
Polyunsaturated Fat:
3
g
Monounsaturated Fat:
2
g
Cholesterol:
68
mg
Sodium:
332
mg
Potassium:
897
mg
Fiber:
8
g
Sugar:
4
g
Vitamin A:
900
IU
Vitamin C:
23.9
mg
Calcium:
40
mg
Iron:
3.1
mg
Instructions
Heat the fat in a large skillet over medium heat. Briefly sear the fish on both sides.

Add the turmeric, cinnamon, ginger, and garlic, and cook 1 minute.

Add the mushrooms and green onion and cook until the fish easily flakes when scratched with a fork.

Add the remaining ingredients and heat through.