Thai Iced Tea is my all-time favorite summer beverage. Ten years ago, when I was still a kid (or close enough to it), it would've been lemonade. Maybe the fact that iced tea has supplanted it is a sign I've finally crossed into adulthood. This is going to sound like blasphemy to those of you that live in the south, but the southern sweet tea my mom used to make has nothing on a nice, tall glass of Thai Iced Tea. Traditionally made with sweetened condensed milk and a handful of spices, it's the perfect blend of sweet, creamy, and spicy. This dairy-free version uses a combination of coconut milk and honey to achieve a somewhat more tropical but equally sweet, satisfying beverage. (Of course, if you don't have any dietary restrictions, feel free to use any milk of your choosing.) Rather than start with bags of Thai tea, I use bags of black tea with cardamom, star anise, and cloves so the blend remains autoimmune protocol friendly.
Budget-Friendly AIP Cookbook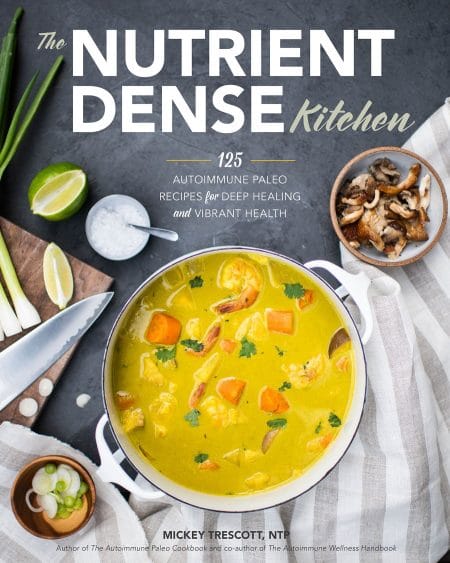 The Nutrient Dense Kitchen is a beautiful, simple cookbook all about helping you understand which ingredients will give you the most nutritional bang for your buck, and showing you how to incorporate them into your diet in efficient, budget-friendly, and delicious ways. With 125 AIP recipes and 5 meal plans, it's a cookbook you're guaranteed to cherish. Now available on Amazon.
Nutrition Facts
Calories:
171
kcal
Carbohydrates:
27
g
Protein:
1
g
Fat:
8
g
Saturated Fat:
7
g
Polyunsaturated Fat:
0.01
g
Monounsaturated Fat:
0.002
g
Sodium:
19
mg
Potassium:
73
mg
Sugar:
25
g
Iron:
0.2
mg
Instructions
Bring the water to a boil.

Combine the water, 1/4 cup honey, tea bags, star anise, cloves, and cardamom pods in a pitcher and steep for 30 minutes.

Remove the tea bags and spices and refrigerate the tea until cold.

Combine the coconut milk and remaining honey.

Fill four 16-ounce glasses with ice and divide the tea evenly between them. Top with the milk mixture to taste.