One of the few things pretty much all diets agree on is "sugar is bad for you." But when you start asking how much sugar and what types of sugars are bad for you, you'll find all kinds of answers.
Have you ever picked up a bottle of agave nectar because it's vegan, only to find out that it's just as high in fructose as high fructose corn syrup? Looked at stevia because it's all natural, only to learn that it may disrupt your hormone regulation? Used raw honey to treat your season allergies, only to discover that's an old wives' tale?
Yeah, there's a lot of misinformation out there. On top of that, you'll meet people of the opinion that you can eat a little bit of anything because "hey, it's not gonna kill you!" as well as people who are afraid to eat anything because of the symptoms Google told them it might cause.
No judgment: We all have a complicated relationship with sugar. We were raised on it, we associate it with special occasions, with indulgence and stress relief, and we use it as positive reinforcement for ourselves and our kids. "Finish your veggies, then you can have dessert." Right? And when dessert is out of the picture but you still have to eat your vegetables, cue the temptation, the cravings, the self-loathing. The addiction.
Here's the thing you may not have considered about the autoimmune protocol: You don't actually have to give up sugar.
The rule of thumb is to limit yourself to no more than 20 grams of fructose per day. That's 4 medium-sized bananas or 2 1/2 tablespoons of honey. (Not that I'm suggesting you should eat 4 bananas or 2 1/2 tablespoons of honey in one day. Switch it up a bit, okay?)
Tons of healthy foods contain natural sugars the human body is perfectly-suited to metabolize. And not just fruits: Beets and carrots and sweet potatoes contain enough natural sugar to taste sweet, too.
But everyone has different needs and a different level of tolerance, so that "rule of thumb" number may be higher or lower for you. If you've got diabetes, you won't be able to tolerate as much sugar as other people. If you've got wonky sex hormones (like PCOS), your doctor may have prescribed a completely sugar-free diet. On the other hand, people often go too low-carb on the AIP and wind up having to reintroduce some simple carbohydrates to keep their bodies happy. This is especially common for women, who need more carbohydrates to begin with, and for people who are physically active.
You should absolutely talk to your doctor about the diet that would best suit your unique situation. Beyond that, it may take a little bit of experimentation to find the types and amounts of natural sugars that work best for you. But when it comes to sugar on the AIP, it's always going to be best to choose a naturally sweet food that contains its own nutrients, like a banana or orange. Give yourself some time to adapt, and you'll begin to look forward to those healthy treats. Strawberries are my personal favorite!
And on those occasions you have to use a little bit of sweetener or really do need a treat? Pick one of the dark/cloudy, unrefined/raw sweeteners like grade B maple syrup, blackstrap molasses, or raw honey. Unlike refined sugars, at least they contain some vitamins and minerals. I've got lots of AIP-friendly treat recipes to choose from.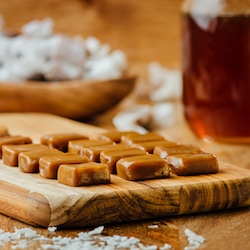 There are even AIP-friendly treats you can buy, like these caramels from Sweet Apricity. Made with coconut cream, coconut oil, raw honey, and palm sugar, they taste surprisingly like traditional caramel and are a much healthier option than other things you might be tempted to reach for when a sugar craving gets the better of you. They make a great gift for occasions that'd ordinarily call for chocolate, like Valentine's Day and anniversaries, too! I like to keep some on hand in the freezer for the proverbial a rainy day.