Strawberries have become one of my favorite salad toppings on the autoimmune protocol. Like cherry tomatoes, they add strong flavor and a beautiful pop of color, and they pair well with just about anything. Basil is usually my go-to, but when I recently found myself with an overabundance of kale and bacon, it seemed like the perfect occasion for a Strawberry Kale Salad with Baconnaise. The dressing can be made in advance, but if you opt for coconut cream over mayonnaise, it may need to be thawed to room temperature before using, as coconut cream tends to get firm when refrigerated. There are only three other ingredients–strawberries, kale, and avocado–so this salad is an awesomely quick and easy side for four or meal for two! If you are making it a meal, I recommend swapping a cup or two of the kale for a bit more protein, like some chopped chicken you might have leftover from a previous meal. Here are some things to pair it with if you're serving it as a side.
Looking for Low-FODMAP Recipes?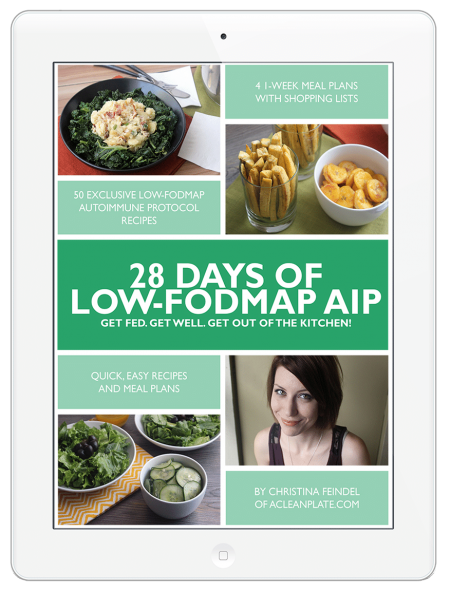 The low-FODMAP diet is often prescribed for people with IBS or Small Intestinal Bacterial Overgrowth (SIBO), and there's a huge overlap of that demographic with people with autoimmune disease. My e-book 28 Days of Low-FODMAP AIP combines both IBS- and autoimmune-friendly diets in a 28-day meal plan designed to jump start and simplify this often-challenging diet change. Just you wait: The meal plan includes 50 exclusive low-FODMAP recipes you won't find on my website or anywhere else, with dishes like Chicken Vindalo, Jambalaya, and crispy, crunchy Tostones. You'll be amazed at the variety of flavors still available to you! The ebook is available as a digital download for $9.99.
Nutrition Facts
Calories:
538
kcal
Carbohydrates:
74
g
Protein:
21
g
Fat:
24
g
Saturated Fat:
4
g
Polyunsaturated Fat:
8
g
Monounsaturated Fat:
9
g
Cholesterol:
17
mg
Sodium:
723
mg
Potassium:
2593
mg
Fiber:
15
g
Sugar:
14
g
Vitamin A:
1458
%
Vitamin C:
1071
%
Calcium:
67
%
Iron:
48
%
Instructions
Combine kale, strawberries and avocado in a large bowl and set aside.

Cook bacon until crisp in a small skillet over medium heat, then drain it on paper towels to remove the excess grease.

Crumble the bacon into small pieces and whisk together with the coconut cream, honey, vinegar, and salt. Toss the dressing and salad together to serve.