Fall brings a lot of flavors to our table we may not enjoy throughout the rest of the year–like pumpkin, cinnamon, and cranberry–but by far my favorite autumn ingredient is the simple, humble apple. Whether you're buying conventional or organic, they're one of the most affordable fruits year-round and come in a variety of tantalizing flavors. In my opinion, this applesauce works best with sweeter red apples like the Pink Lady. Rather than add cinnamon, this recipe uses strawberries for a beautiful pink color and mild flavor. Of course, you can add maple syrup or honey, cinnamon, or any other seasoning you like if you want to take it a step further–I think basil would be fun!
Keep your household clean, too!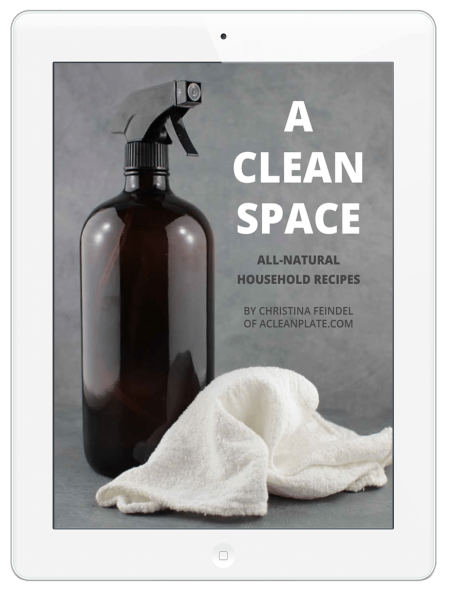 I may make my living as a food blogger, but my health-consciousness actually began long before I started cooking. Growing up with a sensitive nose and skin that would break out into a rash at the slightest provocation, I've been making my own cosmetics and cleaning products since high school. I hoped that avoiding these environmental toxins would not only improve my health, but be better for the environment and save me some money compared to buying high-end non-toxic products at a health-foods store. Whatever your reasons, making your own household products is easier than you might think. My e-book A Clean Space has all the tips, tricks, and recipes you need to get started–and it's only $6.99!
Ingredients
2 1/2

pounds

apple

(cored and quartered)

1 1/2

cups

strawberries

1

cups

water
Nutrition Facts
Calories:
88
kcal
Carbohydrates:
23
g
Protein:
1
g
Fat:
0.4
g
Saturated Fat:
0.05
g
Polyunsaturated Fat:
0.1
g
Monounsaturated Fat:
0.03
g
Sodium:
2
mg
Potassium:
220
mg
Fiber:
4
g
Sugar:
17
g
Vitamin A:
2
%
Vitamin C:
54
%
Calcium:
2
%
Iron:
2
%
Instructions
Combine the fruit and water in a large stock pot and bring it to a boil over high heat.

Reduce the heat to medium and stir occasionally while simmering, uncovered, for 25 minutes.

Mash or blend to reach desired consistency, then chill before serving.