Now, I am usually not a fan of doing anything to steaks other than sprinkling them with a bit of salt and pepper (maybe garlic) and broiling them just until they stop bleeding… maybe a few minutes. I like them buttery. But horseradish is a classic condiment for steak, and this variation introduces tart green apple to complement the bite. This is a great relish for anything beef! Pictured here with my French Fries recipe, this makes for an awesome, cozy meal.
Need a Break From Cooking?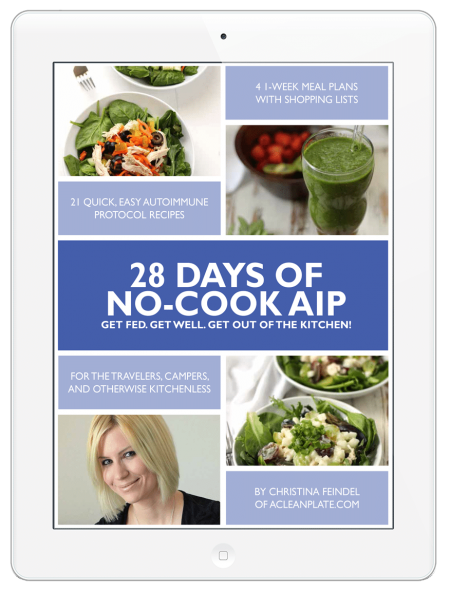 Whether you're traveling, moving, or just tired of spending so much time in the kitchen, 28 Days of No-Cook AIP can help. With four one-week meal plans designed for lazy days and/or a poorly-stocked kitchen, these simple dishes (including but not limited to salads, wraps, and smoothies) will make sticking to your autoimmune protocol diet during business trips, holiday travel, and times of illness or stress a lot easier! The e-book is now available as a digital download for $9.99.
Nutrition Facts
Calories:
163
kcal
Carbohydrates:
8
g
Protein:
3
g
Fat:
13
g
Saturated Fat:
11
g
Polyunsaturated Fat:
1
g
Monounsaturated Fat:
2
g
Cholesterol:
7
mg
Sodium:
92
mg
Potassium:
119
mg
Fiber:
2
g
Sugar:
6
g
Vitamin A:
1
%
Vitamin C:
10
%
Calcium:
4
%
Iron:
10
%
Instructions
Preheat the oven to 450 degrees.

Combine the horseradish ingredients in a medium bowl and marinate in the fridge for at least 30 minutes.

Heat the oil in a skillet over high heat. Rub the steaks with thyme, salt and pepper, then add to the pan and cook about 2 minutes on each side.

Move the skillet to the oven and continue cooking about 4 minutes.

Slice and then serve with horseradish on top.