Now, I am usually not a fan of doing anything to steaks other than sprinkling them with a bit of salt and pepper (maybe garlic) and broiling them just until they stop bleeding… maybe a few minutes. I like them buttery. But horseradish is a classic condiment for steak, and this variation introduces tart green apple to complement the bite. This is a great relish for anything beef! Pictured here with my French Fries recipe, this makes for an awesome, cozy meal.
All-natural, organic makeup and skin care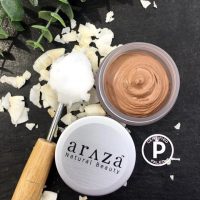 Araza Natural Beauty, founded by two sisters with Celiac disease, is the first Paleo-certified beauty company to offer a full range of products for skin, eyes, cheeks, and lips–all of which are additive, dairy, and gluten free. In all my years of experimenting with natural makeup, this has become my favorite, fool-proof brand for everyday looks!
Nutrition Facts
Calories:
163
kcal
Carbohydrates:
8
g
Protein:
3
g
Fat:
13
g
Saturated Fat:
11
g
Polyunsaturated Fat:
1
g
Monounsaturated Fat:
2
g
Cholesterol:
7
mg
Sodium:
92
mg
Potassium:
119
mg
Fiber:
2
g
Sugar:
6
g
Vitamin A:
1
%
Vitamin C:
10
%
Calcium:
4
%
Iron:
10
%
Instructions
Preheat the oven to 450 degrees.

Combine the horseradish ingredients in a medium bowl and marinate in the fridge for at least 30 minutes.

Heat the oil in a skillet over high heat. Rub the steaks with thyme, salt and pepper, then add to the pan and cook about 2 minutes on each side.

Move the skillet to the oven and continue cooking about 4 minutes.

Slice and then serve with horseradish on top.