I first encountered drinking vinegar at a local Thai restaurant a few years ago, and the beverage has become a favorite "mocktail" in the time since. You know, something to serve up when everyone else might be enjoying wine, cider, or beer. (Or even kombucha, which I've found aggravates my interstitial cystitis–an autoimmune bladder condition.) In this Rosemary Peach Drinking Vinegar, the combination of tart vinegar and sparkling water pack a bit of a punch depending on how much of each you add to your glass, while the infusion of fruit and herbs give your palate plenty to consider. Rosemary and peaches are one of my favorite flavor combinations, but you can also use apricots or nectarines or swap the rosemary with thyme for a similar effect. And while the drinking vinegar needs to marinate for a good five days or so before its potent enough to enjoy, it only takes a few minutes to prepare!
Struggling to Start the Autoimmune Protocol?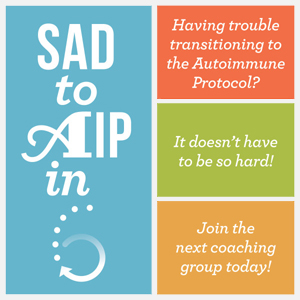 Living with chronic illness can be isolating enough without overhauling your lifestyle, often without the full support of family members who don't want their diets to change. But you don't have to go through it alone. SAD to AIP in SIX, from Nutritional Therapy Practitioner and author of The Alternative Autoimmune Cookbook Angie Alt, will coach you step-by-step through the transition from the standard American diet (SAD) to the autoimmune protocol (AIP). The six-week course includes coaching from Angie and her team, support from your peers in the program, and reference materials–it's an incredible bargain compared to private health coaching sessions. If you're struggling to make the change to the AIP or feeling isolated on your health journey, this is the program for you!
Nutrition Facts
Calories:
137
kcal
Carbohydrates:
36
g
Protein:
1
g
Fat:
0.3
g
Saturated Fat:
0.04
g
Polyunsaturated Fat:
0.1
g
Monounsaturated Fat:
0.1
g
Sodium:
1
mg
Potassium:
254
mg
Fiber:
2
g
Sugar:
34
g
Vitamin A:
350
IU
Vitamin C:
10.7
mg
Calcium:
10
mg
Iron:
0.2
mg
Instructions
Combine the peaches, honey, and rosemary in a large mason jar and muddle together with a large spoon. Cover and refrigerate for two days, stirring occasionally.

Blend the peach mixture, then strain back into the jar to remove any solids. Stir in the vinegar and refrigerate another three days.

To serve, fill a glass with ice, then pour in enough of the peach mixture to fill the glass about 1/4 of the way. Top with sparkling water.