I first encountered drinking vinegar at a local Thai restaurant a few years ago, and the beverage has become a favorite "mocktail" in the time since. You know, something to serve up when everyone else might be enjoying wine, cider, or beer. (Or even kombucha, which I've found aggravates my interstitial cystitis–an autoimmune bladder condition.) In this Rosemary Peach Drinking Vinegar, the combination of tart vinegar and sparkling water pack a bit of a punch depending on how much of each you add to your glass, while the infusion of fruit and herbs give your palate plenty to consider. Rosemary and peaches are one of my favorite flavor combinations, but you can also use apricots or nectarines or swap the rosemary with thyme for a similar effect. And while the drinking vinegar needs to marinate for a good five days or so before its potent enough to enjoy, it only takes a few minutes to prepare!
Keep Your Health on Track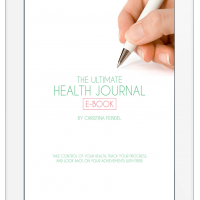 Whether you're starting the autoimmune protocol, a new medication, an exercise routine or trying to get to the bottom of your headaches or indigestion, cataloging your activities and symptoms is a great way to gauge your progress. The Ultimate Health Journal can help you stay on track with diet, fitness, and other lifestyle changes you have begun or been prescribed, notice patterns in your health and lifestyle so you can enact positive changes, and provide a valuable tool for you, your family, and your healthcare team. I would never have noticed that cinnamon makes me sneeze or dairy gives me hiccups without keeping a written record during my elimination diet, which helped me see the patterns that solved my problems! The ebook is available as a digital download with printable template for $6.99.
Nutrition Facts
Calories:
137
kcal
Carbohydrates:
36
g
Protein:
1
g
Fat:
0.3
g
Saturated Fat:
0.04
g
Polyunsaturated Fat:
0.1
g
Monounsaturated Fat:
0.1
g
Sodium:
1
mg
Potassium:
254
mg
Fiber:
2
g
Sugar:
34
g
Vitamin A:
7
%
Vitamin C:
13
%
Calcium:
1
%
Iron:
1
%
Instructions
Combine the peaches, honey, and rosemary in a large mason jar and muddle together with a large spoon. Cover and refrigerate for two days, stirring occasionally.

Blend the peach mixture, then strain back into the jar to remove any solids. Stir in the vinegar and refrigerate another three days.

To serve, fill a glass with ice, then pour in enough of the peach mixture to fill the glass about 1/4 of the way. Top with sparkling water.