I've mentioned in a couple of recent posts and newsletters that my husband and I recently bought our first house. Well, it's moving day! The truck is just minutes from arriving and it's a bittersweet feeling. We're going to miss our cute little Austin apartment and all the places and people we've come to love since moving here seven years ago. And as I thought about the final recipe I'd prepare in our packed-up kitchen, with just a few odd utensils and appliances to work with, I thought I'd better make a cool, refreshing summer beverage in the spirit of working under a hot sun. Something classic, like iced tea or lemonade. Well, this Tropical Lemonade fits the bill. Whether you're moving furniture down three flights of stairs, weeding a flower bed, or playing in the backyard, this fun, fruity beverage will help cool you off afterward. You can even use sparkling water if you like a bit of carbonated kick!
Stay Organized and Reach Your Goals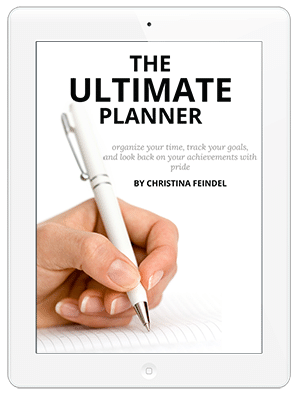 Whether you're focused on big-picture goals like diet, fitness, and career or need help managing day-today tasks like errands and chores, a good planner will keep you focused so the important things get done in the simplest, most efficient way possible. The Ultimate Planner begins with a bird's-eye view of the year and works its way down through monthly, weekly, and daily planners. Because these templates are adaptable to any day or year, you can use this planner over and over again! The ebook is available as a digital download with printable template for $6.99.
Ingredients
2

large

peach

(pitted)

1

small

pineapple

(peeled, cored, and chopped)

4

cups

water

(chilled)

1

cup

lemon juice

1/4

cup

honey

ice
Nutrition Facts
Calories:
68
kcal
Carbohydrates:
19
g
Protein:
1
g
Fat:
0.1
g
Saturated Fat:
0.01
g
Polyunsaturated Fat:
0.05
g
Monounsaturated Fat:
0.03
g
Sodium:
4
mg
Potassium:
157
mg
Fiber:
1
g
Sugar:
14
g
Vitamin A:
2
%
Vitamin C:
62
%
Calcium:
1
%
Iron:
1
%
Instructions
Combine the peaches, pineapple, 2 cups water, lemon juice, and honey in a blender and process until smooth.

Transfer to a pitcher and stir in the remaining water.

Serve over ice.