I've mentioned in a couple of recent posts and newsletters that my husband and I recently bought our first house. Well, it's moving day! The truck is just minutes from arriving and it's a bittersweet feeling. We're going to miss our cute little Austin apartment and all the places and people we've come to love since moving here seven years ago. And as I thought about the final recipe I'd prepare in our packed-up kitchen, with just a few odd utensils and appliances to work with, I thought I'd better make a cool, refreshing summer beverage in the spirit of working under a hot sun. Something classic, like iced tea or lemonade. Well, this Tropical Lemonade fits the bill. Whether you're moving furniture down three flights of stairs, weeding a flower bed, or playing in the backyard, this fun, fruity beverage will help cool you off afterward. You can even use sparkling water if you like a bit of carbonated kick!
Keep your household clean, too!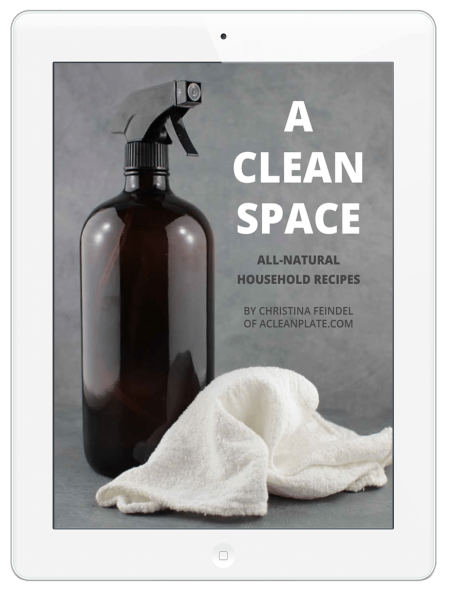 I may make my living as a food blogger, but my health-consciousness actually began long before I started cooking. Growing up with a sensitive nose and skin that would break out into a rash at the slightest provocation, I've been making my own cosmetics and cleaning products since high school. I hoped that avoiding these environmental toxins would not only improve my health, but be better for the environment and save me some money compared to buying high-end non-toxic products at a health-foods store. Whatever your reasons, making your own household products is easier than you might think. My e-book A Clean Space has all the tips, tricks, and recipes you need to get started–and it's only $6.99!
Ingredients
2

large

peach

(pitted)

1

small

pineapple

(peeled, cored, and chopped)

4

cups

water

(chilled)

1

cup

lemon juice

1/4

cup

honey

ice
Nutrition Facts
Calories:
68
kcal
Carbohydrates:
19
g
Protein:
1
g
Fat:
0.1
g
Saturated Fat:
0.01
g
Polyunsaturated Fat:
0.05
g
Monounsaturated Fat:
0.03
g
Sodium:
4
mg
Potassium:
157
mg
Fiber:
1
g
Sugar:
14
g
Vitamin A:
100
IU
Vitamin C:
51.2
mg
Calcium:
10
mg
Iron:
0.2
mg
Instructions
Combine the peaches, pineapple, 2 cups water, lemon juice, and honey in a blender and process until smooth.

Transfer to a pitcher and stir in the remaining water.

Serve over ice.