Pineapple and coconut go together like peanut butter and jelly. It's one of those combinations that sounds too simple to be phenomenal, but when those flavors hit your tastebuds… it just feels right. Virgin pina coladas were one of my favorite things to order with dinner when I was a kid (as opposed to a soda, though I'm not sure the pina colada was much healthier), and now, pineapple is one of my favorite things to pair with the coconut you'll see in nearly every AIP-friendly treat. With just five ingredients, these Pina Colada Candies are ridiculously simple. At the same time, they'e so unique they'll impress anyone you happen to serve them to. They have a gummy texture that varies from soft to chewy depending on how long you cook them and how much honey you add–but pay attention while they're on the stove, because they can and will burn if you let them get too dry. It's the kind of recipe that looks intimidating until you get started. Just follow the instructions and you'll be enjoying your candies in no time!
Looking for Low-Histamine Recipes?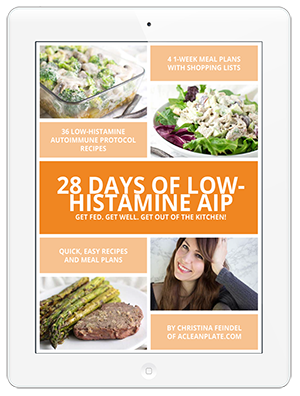 A low-histamine diet can be immensely helpful for MAST cell disorders or people with excess histamine production, but it's an extremely tricky diet to manage. My e-book 28 Days of Low-Histamine AIP combines low-histamine foods with the anti-inflammatory autoimmune protocol diet in a 28-day meal plan designed to jump start and simplify your diet change. The meal plan includes 36 simple, satisfying low-histamine recipes including a variety of dishes like Chicken Schawarma, Cabbage Roll Stir-Fry, and Chimichurri Steaks. You'll be amazed at all the flavors still available to you! The ebook is available as a digital download for $9.99.
Nutrition Facts
Calories:
149
kcal
Carbohydrates:
25
g
Protein:
1
g
Fat:
7
g
Saturated Fat:
6
g
Polyunsaturated Fat:
0.03
g
Monounsaturated Fat:
0.01
g
Sodium:
5
mg
Potassium:
98
mg
Fiber:
2
g
Sugar:
20
g
Vitamin A:
50
IU
Vitamin C:
39.6
mg
Calcium:
10
mg
Iron:
0.4
mg
Instructions
In a large skillet over high heat, combine the pineapple, 1/4 cup honey, and lemon juice and bring to a boil, then reduce the heat to medium and simmer 30 minutes, stirring occasionally. If the mixture starts to dry out during this time, add more honey, up to 2 tablespoons.

Reduce the heat to low, add the extract, and cook another 15 minutes, stirring occasionally, until the mixture thickens nearly into a paste.

Remove from the heat and let cool 10-15 minutes, just until cool enough to handle.

Wet your hands to keep the paste from sticking to them, then form the paste into 6 equal-sized balls, about 1". Roll in the shredded coconut to coat, then refrigerate until ready to eat.