I loved pickled okra as a kid. It was a strange treat dad would buy every so often, but as I grew up I kind of forgot about it. Then, last week, I saw some fresh organic okra at my local market… and I had to go for it. I'd never pickled anything before and was a little intimidated as I sat down to figure it out. But it's really easy, like whipping up a marinade. If you plan on making a large batch for long-term storage, you definitely want to follow proper canning procedures… but my batch of this Garlic Dill Pickled Okra didn't last more than a couple of days!
Struggling with thyroid disease?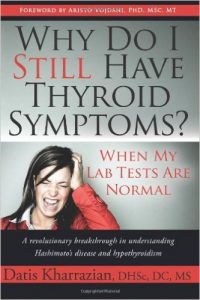 Why Do I Still Have Thyroid Symptoms? by functional medicine practitioner Datis Kharrazian is single-handedly responsible for my improved health over the past few years. It introduced me to the connection between autoimmune disease and lifestyle factors like diet at a time when my doctors were telling me there was nothing wrong with my thyroid even though I had high antibodies. This book gave me the information I needed to get the right tests ordered and seek proper treatment. It's a must-have guide for anyone who has already been diagnosed with thyroid disease, who is at risk due to family history, or who strongly suspects they may have it but isn't sure where to start. I can't recommend it enough!
Nutrition Facts
Calories:
88
kcal
Carbohydrates:
20
g
Protein:
5
g
Fat:
0.5
g
Saturated Fat:
0.1
g
Polyunsaturated Fat:
0.1
g
Monounsaturated Fat:
0.1
g
Sodium:
5757
mg
Potassium:
894
mg
Fiber:
8
g
Sugar:
3
g
Vitamin A:
950
IU
Vitamin C:
68.5
mg
Calcium:
230
mg
Iron:
3.4
mg
Instructions
Sterilize your jars with vinegar or by boiling for several minutes. This recipe will fit in 48 total ounces.

Clean the okra and pack it in the jars, leaving at least 1" from the top of the jar.

Add the garlic, dill, and pepper, dividing equally between the jars if you're using more than one.

Combine the water, vinegar, and salt, and pour over the okra, leaving 1/2" from the top of the jar.

Seal the jars and marinate in the fridge for at least 24 hours. Store in a the refrigerator for up to three weeks.