I loved pickled okra as a kid. It was a strange treat dad would buy every so often, but as I grew up I kind of forgot about it. Then, last week, I saw some fresh organic okra at my local market… and I had to go for it. I'd never pickled anything before and was a little intimidated as I sat down to figure it out. But it's really easy, like whipping up a marinade. If you plan on making a large batch for long-term storage, you definitely want to follow proper canning procedures… but my batch of this Garlic Dill Pickled Okra didn't last more than a couple of days!
Struggling to Start the Autoimmune Protocol?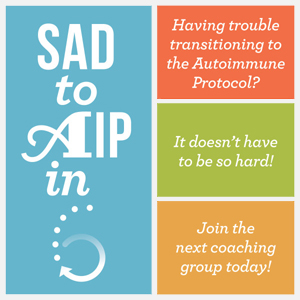 Living with chronic illness can be isolating enough without overhauling your lifestyle, often without the full support of family members who don't want their diets to change. But you don't have to go through it alone. SAD to AIP in SIX, from Nutritional Therapy Practitioner and author of The Alternative Autoimmune Cookbook Angie Alt, will coach you step-by-step through the transition from the standard American diet (SAD) to the autoimmune protocol (AIP). The six-week course includes coaching from Angie and her team, support from your peers in the program, and reference materials–it's an incredible bargain compared to private health coaching sessions. If you're struggling to make the change to the AIP or feeling isolated on your health journey, this is the program for you!
Nutrition Facts
Calories:
88
kcal
Carbohydrates:
20
g
Protein:
5
g
Fat:
0.5
g
Saturated Fat:
0.1
g
Polyunsaturated Fat:
0.1
g
Monounsaturated Fat:
0.1
g
Sodium:
5757
mg
Potassium:
894
mg
Fiber:
8
g
Sugar:
3
g
Vitamin A:
19
%
Vitamin C:
83
%
Calcium:
23
%
Iron:
19
%
Instructions
Sterilize your jars with vinegar or by boiling for several minutes. This recipe will fit in 48 total ounces.

Clean the okra and pack it in the jars, leaving at least 1" from the top of the jar.

Add the garlic, dill, and pepper, dividing equally between the jars if you're using more than one.

Combine the water, vinegar, and salt, and pour over the okra, leaving 1/2" from the top of the jar.

Seal the jars and marinate in the fridge for at least 24 hours. Store in a the refrigerator for up to three weeks.