I loved pickled okra as a kid. It was a strange treat dad would buy every so often, but as I grew up I kind of forgot about it. Then, last week, I saw some fresh organic okra at my local market… and I had to go for it. I'd never pickled anything before and was a little intimidated as I sat down to figure it out. But it's really easy, like whipping up a marinade. If you plan on making a large batch for long-term storage, you definitely want to follow proper canning procedures… but my batch of this Garlic Dill Pickled Okra didn't last more than a couple of days!
Looking for more easy AIP recipes?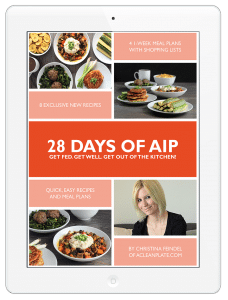 I know diet change can feel overwhelming. I started the autoimmune protocol at a time when only four other people were writing about it, and over the years, I've striven to give you the resources I wish I'd had when I got started. Not just recipes, but ways to implement them. My first ebook 28 Days of AIP is a meal plan that will help you get going (or get back on the wagon) with as little fuss as possible. With a variety of simple, delicious recipes, plenty of leftovers so you don't spend all your free time in the kitchen, and shopping lists ready to go, all you have to do is follow the plan, then sit down and enjoy your meal! It's available as a digital download for $9.99.
Nutrition Facts
Calories:
88
kcal
Carbohydrates:
20
g
Protein:
5
g
Fat:
0.5
g
Saturated Fat:
0.1
g
Polyunsaturated Fat:
0.1
g
Monounsaturated Fat:
0.1
g
Sodium:
5757
mg
Potassium:
894
mg
Fiber:
8
g
Sugar:
3
g
Vitamin A:
950
IU
Vitamin C:
68.5
mg
Calcium:
230
mg
Iron:
3.4
mg
Instructions
Sterilize your jars with vinegar or by boiling for several minutes. This recipe will fit in 48 total ounces.

Clean the okra and pack it in the jars, leaving at least 1" from the top of the jar.

Add the garlic, dill, and pepper, dividing equally between the jars if you're using more than one.

Combine the water, vinegar, and salt, and pour over the okra, leaving 1/2" from the top of the jar.

Seal the jars and marinate in the fridge for at least 24 hours. Store in a the refrigerator for up to three weeks.