During the summers of my childhood, I'd often help my mom throw together a fruit salad to be served as a side during cookouts, picnics, and potlucks. With a variety of fresh fruits and a rich dressing, they were often my favorite part of the meal–I was a fiend for sugar. Now, it boggles my mind that we ever thought fruit couldn't stand up well on its own. These days, my fruit salads let the natural sugars in fruit take charge, using just a tiny bit of honey or jam with a splash of citrus to add a little depth. This Clementine Fruit Salad with Cherries is one of my favorites, especially when clementines are on sale in early spring or cherries come into season a bit later in the year. Use sweet or tart cherries depending on your preference and get the kids to help throw the whole thing together for a fun family treat, whether you're eating indoors or out.
Budget-Friendly AIP Cookbook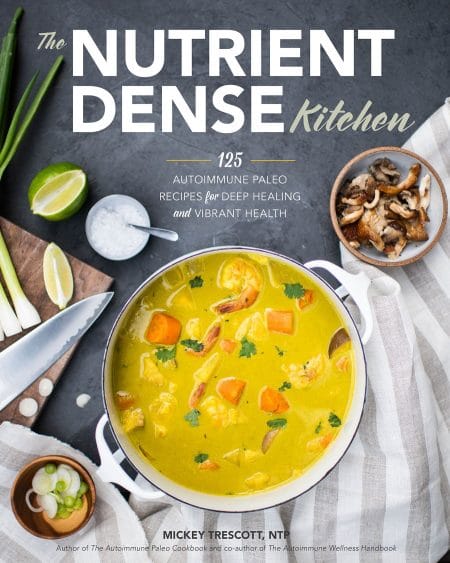 The Nutrient Dense Kitchen is a beautiful, simple cookbook all about helping you understand which ingredients will give you the most nutritional bang for your buck, and showing you how to incorporate them into your diet in efficient, budget-friendly, and delicious ways. With 125 AIP recipes and 5 meal plans, it's a cookbook you're guaranteed to cherish. Now available on Amazon.
Nutrition Facts
Calories:
139
kcal
Carbohydrates:
35
g
Protein:
2
g
Fat:
0.4
g
Saturated Fat:
0.1
g
Polyunsaturated Fat:
0.1
g
Monounsaturated Fat:
0.1
g
Sodium:
5
mg
Potassium:
428
mg
Fiber:
3
g
Sugar:
26
g
Vitamin A:
4
%
Vitamin C:
84
%
Calcium:
3
%
Iron:
4
%
Instructions
Combine everything in a bowl and marinate in the fridge for at least 20 minutes before serving.