During the summers of my childhood, I'd often help my mom throw together a fruit salad to be served as a side during cookouts, picnics, and potlucks. With a variety of fresh fruits and a rich dressing, they were often my favorite part of the meal–I was a fiend for sugar. Now, it boggles my mind that we ever thought fruit couldn't stand up well on its own. These days, my fruit salads let the natural sugars in fruit take charge, using just a tiny bit of honey or jam with a splash of citrus to add a little depth. This Clementine Fruit Salad with Cherries is one of my favorites, especially when clementines are on sale in early spring or cherries come into season a bit later in the year. Use sweet or tart cherries depending on your preference and get the kids to help throw the whole thing together for a fun family treat, whether you're eating indoors or out.
Looking for Some Simple AIP Recipes?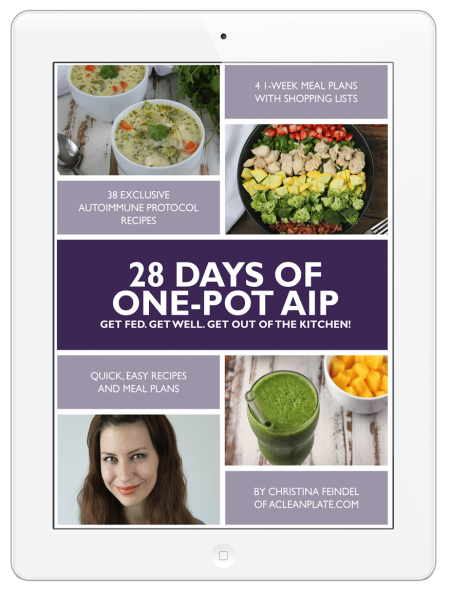 When you're dealing with fatigue, pain, or illness, eating healthy is hard enough without having to multitask while cooking or clean up a huge mess afterwards. That's why one-pot meals are my favorite. 28 Days of One-Pot AIP is exactly what it sounds like: A 28-day meal plan featuring only 100% autoimmune protocol, one-pot recipes. There's an intro to explain the AIP and one-pot cooking and the preparation is so much simpler when you've only got one thing to keep track of. Plus, you'll be amazed at the variety of flavors still available to you, like my Chicken Pot Pie Soup, satisfying green smoothies, and colorful salads! The e-book is now available for $9.99.
Nutrition Facts
Calories:
139
kcal
Carbohydrates:
35
g
Protein:
2
g
Fat:
0.4
g
Saturated Fat:
0.1
g
Polyunsaturated Fat:
0.1
g
Monounsaturated Fat:
0.1
g
Sodium:
5
mg
Potassium:
428
mg
Fiber:
3
g
Sugar:
26
g
Vitamin A:
200
IU
Vitamin C:
69.3
mg
Calcium:
30
mg
Iron:
0.7
mg
Instructions
Combine everything in a bowl and marinate in the fridge for at least 20 minutes before serving.