Mango Lassis have been a staple in my household ever since we first encountered them at a local Indian restaurant in high school. A mellow, creamy fruit smoothie, they're often made with cucumber, rose, or a variety of herbs or spices like mint or cardamom. The mango variation, however, has always been my favorite. With this Minty Mango Lassi, you can add more or less mango to taste, use whatever seasonings strike your fancy, and substitute coconut milk for the yogurt if you don't have any on hand or don't feel like making your own. Either way, it will be a cooling, comforting treat whether you're looking to escape the summer heat or the fiery burning on your tongue from eating big heaping helpings of Indian food
Keep Your Health on Track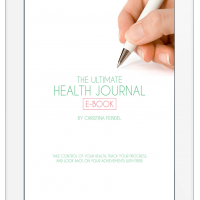 Whether you're starting the autoimmune protocol, a new medication, an exercise routine or trying to get to the bottom of your headaches or indigestion, cataloging your activities and symptoms is a great way to gauge your progress. The Ultimate Health Journal can help you stay on track with diet, fitness, and other lifestyle changes you have begun or been prescribed, notice patterns in your health and lifestyle so you can enact positive changes, and provide a valuable tool for you, your family, and your healthcare team. I would never have noticed that cinnamon makes me sneeze or dairy gives me hiccups without keeping a written record during my elimination diet, which helped me see the patterns that solved my problems! The ebook is available as a digital download with printable template for $6.99.
Nutrition Facts
Calories:
176
kcal
Carbohydrates:
30
g
Protein:
2
g
Fat:
7
g
Saturated Fat:
6
g
Polyunsaturated Fat:
0.1
g
Monounsaturated Fat:
0.1
g
Sodium:
13
mg
Potassium:
187
mg
Fiber:
3
g
Sugar:
25
g
Vitamin A:
950
IU
Vitamin C:
41.3
mg
Calcium:
100
mg
Iron:
0.9
mg
Instructions
Combine all ingredients except mint in a blender and puree until smooth.

Pour into serving glasses and garnish with mint.