When I first started the autoimmune protocol, I had been vegan for years, so I was used to giving up foods that had previously been a huge part of my diet. Meat, dairy, eggs–I had substitutes for all of them. But the autoimmune protocol was a whole new beast. I couldn't just reach for some Oreos or chocolate-flavored almond milk whenever I had a craving anymore. How on earth was I going to survive my raging sweet tooth with nothing but fruit to turn to?
I was skeptical about carob at first. Surely no chocolate substitute could measure up to the rich, velvety texture of the real thing. But it's grown on me to the point where I actually prefer it over chocolate now (and not only because it doesn't give me symptoms). I'll admit carob takes some getting used to. It's a fruitier, sweeter flavor, which makes for a different experience, but it does work well everywhere cocoa would normally go. Especially when you throw in other spices like cinnamon and cloves. This Mexican Chocolate Mousse is one of my favorite AIP-friendly answers to chocolate cravings, especially during the warmer months. But when it's cold, it can also be served as hot chocolate!
Don't Feel Like Cooking?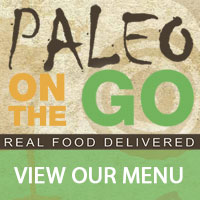 That's okay! Everyone needs a break sometimes, especially during busy times like the holidays or when you're sick or stressed out. When I find myself unwilling or unable to prepare healthy meals myself, I turn to Paleo on the Go. Yes, they have autoimmune protocol-friendly options! With tons of nutritious, delicious, pre-packaged meals, Paleo on the Go's ready-to-go, frozen courses are perfect for those days you just don't want to be in the kitchen. They even offer an appreciable selection of AIP-friendly treats, including toaster pastries!
Total Time:
2
hours
10
minutes
Nutrition Facts
Calories:
572
kcal
Carbohydrates:
55
g
Protein:
7
g
Fat:
36
g
Saturated Fat:
30
g
Polyunsaturated Fat:
0.03
g
Monounsaturated Fat:
0.1
g
Sodium:
82
mg
Potassium:
27
mg
Fiber:
2
g
Sugar:
38
g
Vitamin C:
0.3
mg
Calcium:
70
mg
Iron:
1.1
mg
Instructions
Combine the coconut milk, honey, and vanilla in a small saucepan over medium heat, stirring occasionally, until heated through but not simmering.

Pour 1/4 cup of the mixture into a bowl and sprinkle the gelatin on top. Allow to bloom 2-3 minutes, then stir well.

Combine the milk mixture, gelatin mixture, and all remaining ingredients in a blender and puree until smooth.

For hot chocolate, serve immediately.

For mousse, pour into serving dishes and allow to set in the refrigerator 1-2 hours before serving.