Guys. This is an amazing dish. It's like taking a juicy, flavorful burger patty and sticking it on rice with gravy and a fried egg. What's not to love about that? I'd been planning on trying it for ages and finally got around to it a few weeks ago, and now I'm kicking myself for not trying it sooner. This Loco Moco with Cauliflower Rice has become one of my favorite ways to include cauliflower in our diet, and can be adapted for the autoimmune protocol. Of course, if you do eat rice, you can serve it over that instead!
Struggling with thyroid disease?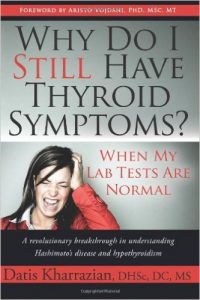 Why Do I Still Have Thyroid Symptoms? by functional medicine practitioner Datis Kharrazian is single-handedly responsible for my improved health over the past few years. It introduced me to the connection between autoimmune disease and lifestyle factors like diet at a time when my doctors were telling me there was nothing wrong with my thyroid even though I had high antibodies. This book gave me the information I needed to get the right tests ordered and seek proper treatment. It's a must-have guide for anyone who has already been diagnosed with thyroid disease, who is at risk due to family history, or who strongly suspects they may have it but isn't sure where to start. I can't recommend it enough!
Nutrition Facts
Calories:
411
kcal
Carbohydrates:
9
g
Protein:
31
g
Fat:
28
g
Saturated Fat:
12
g
Polyunsaturated Fat:
1
g
Monounsaturated Fat:
12
g
Cholesterol:
101
mg
Sodium:
1458
mg
Potassium:
500
mg
Fiber:
3
g
Sugar:
2
g
Vitamin C:
71.8
mg
Calcium:
60
mg
Iron:
3.4
mg
Instructions
Form the beef into patties and fry in the oil over medium heat for about 3 minutes on each side or until cooked to your liking.

Meanwhile, bring the broth to a simmer in a small saucepan over medium-high heat and stir in the salt and pepper.

Combine the arrowroot and cold water in a separate dish to make a thick slurry, then slowly pour it into the simmering broth, stirring constantly until a thick gravy forms.

Once the beef patties are done cooking, remove from the pan and set aside. Crack the eggs into the pan, season with salt and pepper to taste, and cook until the whites are solid but the yolks are still runny.

Place 1 cup of cauliflower rice on each of four plates, then top each with a beef patty and about 1 cup of gravy before placing a fried egg on top.