Based on a simple angel food cake I saw on The Great British Baking Show, this Lemon Curd Cake combines some of my favorite Paleo dessert recipes–my Vanilla Cake, Lemon Curd Parfaits, and Whipped Cream–into a beautifully-flavored treat that's sure to put some zest back into your diet! If you want a little extra kick, throw a tablespoon or two of lemon zest into the cake batter. With the coconut flavor from the whipped "cream", this cake would also work well with a pineapple-lime filling, which could be as simple as placing pineapple rings in the middle instead of the curd and using a bit of lime zest in the cake batter. Really, the filling options are endless! There may be many more fruit-based cake constructions joining this Lemon Curd Cake in the future…. Enjoy!
Are you suffering from adrenal fatigue?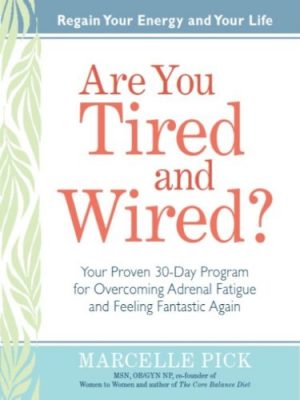 Are You Tired and Wired? is one of my favorite books on adrenal fatigue with chronic illness. It's a comprehensive yet straightforward examination of the factors at work and home that contribute to chronic adrenal dysfunction and the diet, lifestyle adjustments, and emotional reprogramming that can help fix it. A healthcare provider with a focus on women's health, Marcelle Pick will help you identify what type of adrenal dysfunction you suffer from and provide an easy-to-follow, science-based program to help you restore balance to your life. I found it extremely helpful with my own chronic fatigue!
Instructions
Make the cake, curd, and whipped cream as directed. Be sure to refrigerate the whipped cream so it's nice and thick.

When the cakes have cooled to room temperature, turn one out onto a serving platter and spread the curd on top, leaving a roughly 1/2" gap around the edges.

Turn the other cake out on top, then cover the whole thing in whipped cream. If it's too thick to spread, you may have to whisk it or let it thaw a bit.

Keep any leftover cake covered in the refrigerator for up to 3 days.