Based on a simple angel food cake I saw on The Great British Baking Show, this Lemon Curd Cake combines some of my favorite Paleo dessert recipes–my Vanilla Cake, Lemon Curd Parfaits, and Whipped Cream–into a beautifully-flavored treat that's sure to put some zest back into your diet! If you want a little extra kick, throw a tablespoon or two of lemon zest into the cake batter. With the coconut flavor from the whipped "cream", this cake would also work well with a pineapple-lime filling, which could be as simple as placing pineapple rings in the middle instead of the curd and using a bit of lime zest in the cake batter. Really, the filling options are endless! There may be many more fruit-based cake constructions joining this Lemon Curd Cake in the future…. Enjoy!
Keep your household clean, too!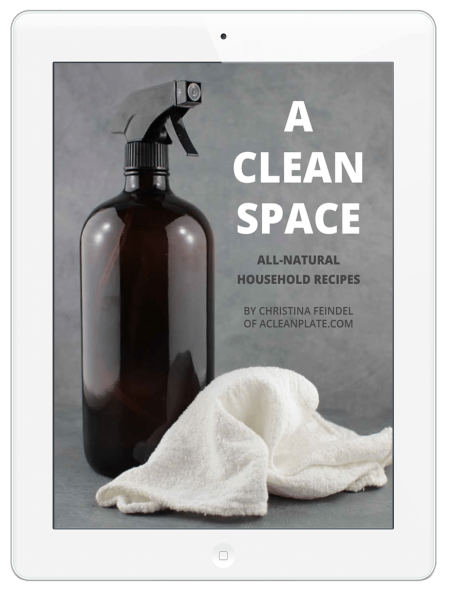 I may make my living as a food blogger, but my health-consciousness actually began long before I started cooking. Growing up with a sensitive nose and skin that would break out into a rash at the slightest provocation, I've been making my own cosmetics and cleaning products since high school. I hoped that avoiding these environmental toxins would not only improve my health, but be better for the environment and save me some money compared to buying high-end non-toxic products at a health-foods store. Whatever your reasons, making your own household products is easier than you might think. My e-book 
A Clean Space
 has all the tips, tricks, and recipes you need to get started–and it's only
$6.99
!
Instructions
Make the cake, curd, and whipped cream as directed. Be sure to refrigerate the whipped cream so it's nice and thick.

When the cakes have cooled to room temperature, turn one out onto a serving platter and spread the curd on top, leaving a roughly 1/2" gap around the edges.

Turn the other cake out on top, then cover the whole thing in whipped cream. If it's too thick to spread, you may have to whisk it or let it thaw a bit.

Keep any leftover cake covered in the refrigerator for up to 3 days.