Based on a simple angel food cake I saw on The Great British Baking Show, this Lemon Curd Cake combines some of my favorite Paleo dessert recipes–my Vanilla Cake, Lemon Curd Parfaits, and Whipped Cream–into a beautifully-flavored treat that's sure to put some zest back into your diet! If you want a little extra kick, throw a tablespoon or two of lemon zest into the cake batter. With the coconut flavor from the whipped "cream", this cake would also work well with a pineapple-lime filling, which could be as simple as placing pineapple rings in the middle instead of the curd and using a bit of lime zest in the cake batter. Really, the filling options are endless! There may be many more fruit-based cake constructions joining this Lemon Curd Cake in the future…. Enjoy!
Struggling with thyroid disease?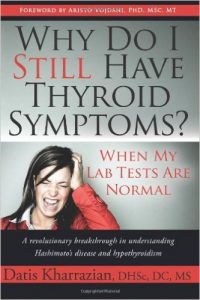 Why Do I Still Have Thyroid Symptoms?
by functional medicine practitioner Datis Kharrazian is single-handedly responsible for my improved health over the past few years. It introduced me to the connection between autoimmune disease and lifestyle factors like diet at a time when my doctors were telling me there was nothing wrong with my thyroid even though I had high antibodies. This book gave me the information I needed to get the right tests ordered and seek proper treatment. It's a must-have guide for anyone who has already been diagnosed with thyroid disease, who is at risk due to family history, or who strongly suspects they may have it but isn't sure where to start. I can't recommend it enough!
Instructions
Make the cake, curd, and whipped cream as directed. Be sure to refrigerate the whipped cream so it's nice and thick.

When the cakes have cooled to room temperature, turn one out onto a serving platter and spread the curd on top, leaving a roughly 1/2" gap around the edges.

Turn the other cake out on top, then cover the whole thing in whipped cream. If it's too thick to spread, you may have to whisk it or let it thaw a bit.

Keep any leftover cake covered in the refrigerator for up to 3 days.