Based on a simple angel food cake I saw on The Great British Baking Show, this Lemon Curd Cake combines some of my favorite Paleo dessert recipes–my Vanilla Cake, Lemon Curd Parfaits, and Whipped Cream–into a beautifully-flavored treat that's sure to put some zest back into your diet! If you want a little extra kick, throw a tablespoon or two of lemon zest into the cake batter. With the coconut flavor from the whipped "cream", this cake would also work well with a pineapple-lime filling, which could be as simple as placing pineapple rings in the middle instead of the curd and using a bit of lime zest in the cake batter. Really, the filling options are endless! There may be many more fruit-based cake constructions joining this Lemon Curd Cake in the future…. Enjoy!
Looking for Low-FODMAP Recipes?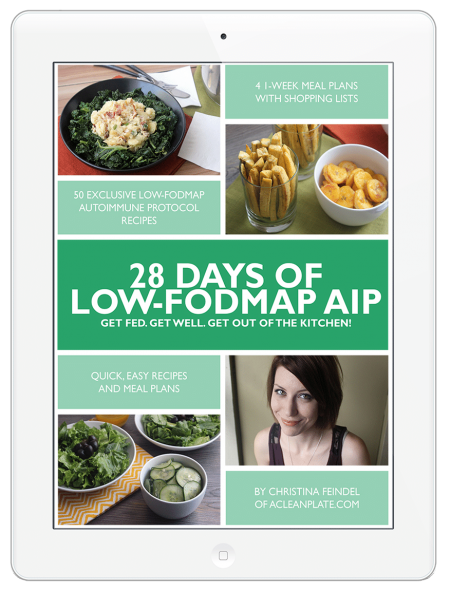 The low-FODMAP diet is often prescribed for people with IBS or Small Intestinal Bacterial Overgrowth (SIBO), and there's a huge overlap of that demographic with people with autoimmune disease. My e-book
28 Days of Low-FODMAP AIP
combines both IBS- and autoimmune-friendly diets in a 28-day meal plan designed to jump start and simplify this often-challenging diet change. Just you wait: The meal plan includes 50 exclusive low-FODMAP recipes you won't find on my website or anywhere else, with dishes like Chicken Vindalo, Jambalaya, and crispy, crunchy Tostones. You'll be amazed at the variety of flavors still available to you! The ebook is available as a digital download for 
$9.99
.
Instructions
Make the cake, curd, and whipped cream as directed. Be sure to refrigerate the whipped cream so it's nice and thick.

When the cakes have cooled to room temperature, turn one out onto a serving platter and spread the curd on top, leaving a roughly 1/2" gap around the edges.

Turn the other cake out on top, then cover the whole thing in whipped cream. If it's too thick to spread, you may have to whisk it or let it thaw a bit.

Keep any leftover cake covered in the refrigerator for up to 3 days.