If you're looking for a cooling, comforting treat this summer, this Lemon-Basil Granita will knock your socks off. Now, I've mentioned before (in pretty much every recipe that uses it) how much I love basil. Like, I'll put it in everything. The best desserts, salads, pizzas, and pastas I've ever had were all swimming in it. And it's a good thing, because I started growing it last summer and was up to my ears in fresh basil. This granita became my go-to recipe to use all those leaves up before they went bad. With just a handful of ingredients and a super, super simple prep, it's an incredible treat you can enjoy without much effort or investment.
Looking for Low-FODMAP Recipes?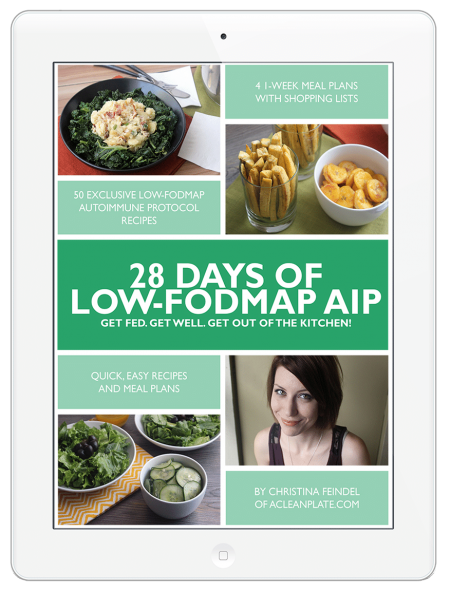 The low-FODMAP diet is often prescribed for people with IBS or Small Intestinal Bacterial Overgrowth (SIBO), and there's a huge overlap of that demographic with people with autoimmune disease. My e-book 28 Days of Low-FODMAP AIP combines both IBS- and autoimmune-friendly diets in a 28-day meal plan designed to jump start and simplify this often-challenging diet change. Just you wait: The meal plan includes 50 exclusive low-FODMAP recipes you won't find on my website or anywhere else, with dishes like Chicken Vindalo, Jambalaya, and crispy, crunchy Tostones. You'll be amazed at the variety of flavors still available to you! The ebook is available as a digital download for $9.99.
Nutrition Facts
Calories:
59
kcal
Carbohydrates:
17
g
Protein:
1
g
Fat:
0.1
g
Saturated Fat:
0.01
g
Polyunsaturated Fat:
0.1
g
Monounsaturated Fat:
0.01
g
Sodium:
3
mg
Potassium:
132
mg
Fiber:
1
g
Sugar:
13
g
Vitamin A:
850
IU
Vitamin C:
33.8
mg
Calcium:
30
mg
Iron:
0.5
mg
Instructions
Combine all ingredients in a blender and process until smooth.

Pour into a 9x13" baking dish, cover, and freeze for at least 6 hours.

Shave into ice chips with the tines of a fork to serve.