There's a whole world of bread substitutes out there for those of us that can't or won't eat grains. Lettuce wraps are a long-time favorite, but there's also portobello buns and other greens that make nice warm wraps (like cabbage or collards). Well, today we're adding jicama to the mix. It's a soft, starchy veggie that's hard to describe but a lot of fun to use. It has little flavor of its own, so it makes a great palette upon which to place your meal. In these simple, autoimmune protocol-friendly Jicama Sandwiches with lettuce, meat, pickles, and avocado, it's a refreshing bread substitute for these hot summer days. Of course, the sandwich is great with other veggies too–like shredded carrot, sliced zucchini, or even apple slices. This is one of my favorite quick and easy meals for using up leftovers in the fridge, especially on a hot days when warm food and cooking sounds awful. With all the ingredients fresh from the fridge, this crispy, cool sandwich goes down a treat. Season to taste or add your favorite dressings for a new twist!
Struggling with thyroid disease?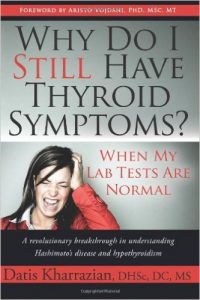 Why Do I Still Have Thyroid Symptoms? by functional medicine practitioner Datis Kharrazian is single-handedly responsible for my improved health over the past few years. It introduced me to the connection between autoimmune disease and lifestyle factors like diet at a time when my doctors were telling me there was nothing wrong with my thyroid even though I had high antibodies. This book gave me the information I needed to get the right tests ordered and seek proper treatment. It's a must-have guide for anyone who has already been diagnosed with thyroid disease, who is at risk due to family history, or who strongly suspects they may have it but isn't sure where to start. I can't recommend it enough!
Ingredients
8

slices

jicama

(peeled and 1/8" thick)

4

leaves

lettuce

(torn)

4

ounces

deli meat

(check ingredients for AIP)

2

medium

avocado

(sliced)

16

slices

dill pickles

1/4

cup

red onion

(chopped)

sea salt

(to taste)

1

pinch

ground black pepper

(omit for AIP)
Nutrition Facts
Calories:
200
kcal
Carbohydrates:
14
g
Protein:
7
g
Fat:
15
g
Saturated Fat:
2
g
Polyunsaturated Fat:
2
g
Monounsaturated Fat:
10
g
Cholesterol:
12
mg
Sodium:
783
mg
Potassium:
613
mg
Fiber:
8
g
Sugar:
3
g
Vitamin A:
150
IU
Vitamin C:
21.5
mg
Calcium:
10
mg
Iron:
0.9
mg
Instructions
Place 4 slices of jicama on your prep surface. Top each with equal parts lettuce, deli meat, avocado, pickles, onion, and seasonings, then top with the remaining jicama slices to make a sandwich.