There's a whole world of bread substitutes out there for those of us that can't or won't eat grains. Lettuce wraps are a long-time favorite, but there's also portobello buns and other greens that make nice warm wraps (like cabbage or collards). Well, today we're adding jicama to the mix. It's a soft, starchy veggie that's hard to describe but a lot of fun to use. It has little flavor of its own, so it makes a great palette upon which to place your meal. In these simple, autoimmune protocol-friendly Jicama Sandwiches with lettuce, meat, pickles, and avocado, it's a refreshing bread substitute for these hot summer days. Of course, the sandwich is great with other veggies too–like shredded carrot, sliced zucchini, or even apple slices. This is one of my favorite quick and easy meals for using up leftovers in the fridge, especially on a hot days when warm food and cooking sounds awful. With all the ingredients fresh from the fridge, this crispy, cool sandwich goes down a treat. Season to taste or add your favorite dressings for a new twist!
Looking for more easy AIP recipes?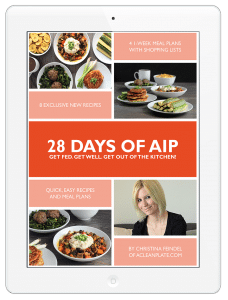 I know diet change can feel overwhelming. I started the autoimmune protocol at a time when only four other people were writing about it, and over the years, I've striven to give you the resources I wish I'd had when I got started. Not just recipes, but ways to implement them. My first ebook 28 Days of AIP is a meal plan that will help you get going (or get back on the wagon) with as little fuss as possible. With a variety of simple, delicious recipes, plenty of leftovers so you don't spend all your free time in the kitchen, and shopping lists ready to go, all you have to do is follow the plan, then sit down and enjoy your meal! It's available as a digital download for $9.99.
Ingredients
8

slices

jicama

(peeled and 1/8" thick)

4

leaves

lettuce

(torn)

4

ounces

deli meat

(check ingredients for AIP)

2

medium

avocado

(sliced)

16

slices

dill pickles

1/4

cup

red onion

(chopped)

sea salt

(to taste)

1

pinch

ground black pepper

(omit for AIP)
Nutrition Facts
Calories:
200
kcal
Carbohydrates:
14
g
Protein:
7
g
Fat:
15
g
Saturated Fat:
2
g
Polyunsaturated Fat:
2
g
Monounsaturated Fat:
10
g
Cholesterol:
12
mg
Sodium:
783
mg
Potassium:
613
mg
Fiber:
8
g
Sugar:
3
g
Vitamin A:
3
%
Vitamin C:
26
%
Calcium:
1
%
Iron:
5
%
Instructions
Place 4 slices of jicama on your prep surface. Top each with equal parts lettuce, deli meat, avocado, pickles, onion, and seasonings, then top with the remaining jicama slices to make a sandwich.