These Guac-Stuffed Burgers with Roasted Portobello Buns are one heck of a meal! Loaded with healthy fats and veggies packing a whole lot of flavor, you won't miss more traditional burger toppings like cheese and ketchup. These are great served with sweet potato fries (with guacamole to dip) and/or a crisp green salad. Of course, you can use the Roasted Portobello Buns for other burgers or sandwiches, too!
Keep Your Health on Track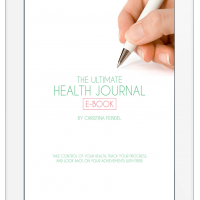 Whether you're starting the autoimmune protocol, a new medication, an exercise routine or trying to get to the bottom of your headaches or indigestion, cataloging your activities and symptoms is a great way to gauge your progress. The Ultimate Health Journal can help you stay on track with diet, fitness, and other lifestyle changes you have begun or been prescribed, notice patterns in your health and lifestyle so you can enact positive changes, and provide a valuable tool for you, your family, and your healthcare team. I would never have noticed that cinnamon makes me sneeze or dairy gives me hiccups without keeping a written record during my elimination diet, which helped me see the patterns that solved my problems! The ebook is available as a digital download with printable template for $6.99.
Nutrition Facts
Calories:
746
kcal
Carbohydrates:
5
g
Protein:
58
g
Fat:
54
g
Saturated Fat:
23
g
Polyunsaturated Fat:
1
g
Monounsaturated Fat:
20
g
Cholesterol:
202
mg
Sodium:
1963
mg
Potassium:
664
mg
Fiber:
2
g
Sugar:
2
g
Vitamin A:
600
IU
Vitamin C:
16.5
mg
Calcium:
80
mg
Iron:
5.9
mg
Instructions
Preheat the oven to 400F.

Combine the meat, fat, salt, and pepper by hand and form into four balls, then make a little dip in the middle of each for the filling.

Spoon a tablespoon-full of the guac into the center of the patties. Place the remaining two patties on top and pinch the sides closed. Arrange on a foil-lined baking sheet.

Scrape the gills out of the mushrooms and brush the top and bottom of each cap with coconut oil. Sprinkle with salt, then arrange bottom-up on the baking sheet.

Bake 10 minutes, then flip over the mushrooms and bake an additional 10 minutes.

Serve the burgers sandwiched between two portobello mushrooms with the lettuce and any extra guac or additional toppings.