These Guac-Stuffed Burgers with Roasted Portobello Buns are one heck of a meal! Loaded with healthy fats and veggies packing a whole lot of flavor, you won't miss more traditional burger toppings like cheese and ketchup. These are great served with sweet potato fries (with guacamole to dip) and/or a crisp green salad. Of course, you can use the Roasted Portobello Buns for other burgers or sandwiches, too!
Looking for AIP-Friendly Breakfast Recipes?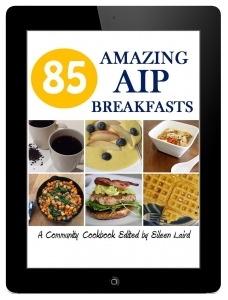 What to eat for breakfast is one of the most common questions I get from people starting the autoimmune protocol. I understand completely: With all my old staples off the table, breakfast was my biggest challenge, too. Well, now there's an easy answer. 85 Amazing AIP Breakfasts is a community e-cookbook featuring dozens of breakfast-friendly autoimmune protocol recipes from some of your favorite bloggers. With coffee substitutes, comforting teas, sausage, waffles, stir-fries, soups, hash, muffins, and porridge, 85 Amazing AIP Breakfasts has just about every one of your breakfast needs covered, sweet and savory alike. Many of the recipes can even be adapted for a low-FODMAP diet! The e-cookbook is available on editor Eileen Laird's website.
Nutrition Facts
Calories:
746
kcal
Carbohydrates:
5
g
Protein:
58
g
Fat:
54
g
Saturated Fat:
23
g
Polyunsaturated Fat:
1
g
Monounsaturated Fat:
20
g
Cholesterol:
202
mg
Sodium:
1963
mg
Potassium:
664
mg
Fiber:
2
g
Sugar:
2
g
Vitamin A:
12
%
Vitamin C:
20
%
Calcium:
8
%
Iron:
33
%
Instructions
Preheat the oven to 400F.

Combine the meat, fat, salt, and pepper by hand and form into four balls, then make a little dip in the middle of each for the filling.

Spoon a tablespoon-full of the guac into the center of the patties. Place the remaining two patties on top and pinch the sides closed. Arrange on a foil-lined baking sheet.

Scrape the gills out of the mushrooms and brush the top and bottom of each cap with coconut oil. Sprinkle with salt, then arrange bottom-up on the baking sheet.

Bake 10 minutes, then flip over the mushrooms and bake an additional 10 minutes.

Serve the burgers sandwiched between two portobello mushrooms with the lettuce and any extra guac or additional toppings.