This Garlic Artichoke Spread is a rich, savory condiment that goes well with just about everything. Serve it pureed as a dip for plantain chips or sweet potato crackers or leave it slightly chunky and throw it on a salad or juicy chicken breast. It only takes a few minutes to throw together before you pop it in the oven for two episodes of The Good Place. Holy shirt y'all, can you believe it's almost over? I'm gonna miss those bozos so much!
Treat Your Sweet Tooth!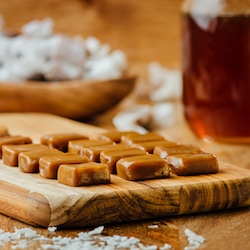 Being on a restricted diet doesn't mean you have to give up every indulgence. Temptation can be rough, and when it strikes, it's nice to have something on hand that's safe to eat. Enter Sweet Apricity. They make creamy, delicious caramels and fluffy marshmallows that just so happen to be 100% autoimmune protocol-friendly. With excellent customer service, high-quality ingredients, a subscribe and save program, and some of the most incredible sweets you'll encounter on the AIP, your sweet tooth doesn't have to go wanting. Plus, they're a great gift for anyone with food sensitivities! Get 10% off with coupon code CleanPlateHolidays now through January 30th, 2020!
Nutrition Facts
Calories:
124
kcal
Carbohydrates:
11
g
Protein:
3
g
Fat:
8
g
Saturated Fat:
7
g
Polyunsaturated Fat:
0.4
g
Monounsaturated Fat:
1
g
Sodium:
475
mg
Potassium:
48
mg
Fiber:
2
g
Sugar:
2
g
Vitamin A:
250
IU
Vitamin C:
11.6
mg
Calcium:
70
mg
Iron:
2.3
mg
Instructions
Preheat the oven to 400F.

Combine all ingredients in an 8"x6" baking dish. Cover with an oven-safe lid or foil and bake 45-50 minutes, stirring once halfway through.

Pulse through a food processor for a chunky spread, or leave as-is and use on salads or wraps.