Merry Christmas to those of you who celebrate! Even if you don't, it's so pervasive you're probably aware of all the tropes and troubles surrounding the holiday. Shopping is a nightmare. The grocery stores are packed and if you need something last-minute, you're probably SOL. Most businesses are closed. Christmas music and movies are everywhere and even if you manage to avoid them, you probably remember all the iconic phrases and scenes. Take A Christmas Story, which saw the family eating alone in a Chinese restaurant, the only place that was open, after their meal was ruined. The film treated it like a travesty, but I can't be the only person who might have preferred some chow mein and fried rice to the generic holiday meal of ham, potatoes, and green bean casserole. Nothing against all that–I just really love Chinese food! And for those of you feel the same way, this Egg Drop Soup is the perfect quick-and-easy, Asian-flavored indulgence to whip up on a cold day. With just a handful of ingredients and a short cooking time, it's a wonderful Christmas breakfast or appetizer.
Keep it Simple with Freezer Cooking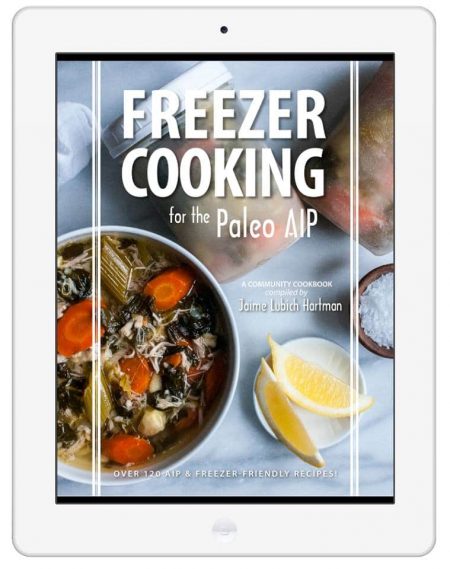 Preparing meals ahead of time and keeping them on hand in the freezer is one of the best ways to make any diet change sustainable. You'll wind up spending less time in the kitchen most days and will always have something ready to go when hunger or cravings strike. With Freezer Cooking for the Paleo AIP, you'll get 123 tried-and-true recipes from 30 of your favorite autoimmune protocol bloggers to help you out. Designed for batch cooking and advance prep, each recipe includes instructions for storing, freezing, and reheating it. There are recipes for every meal of the day and recipes for special occasions, too! The ebook is now available as a digital download for $18.90.
Nutrition Facts
Calories:
111
kcal
Carbohydrates:
13
g
Protein:
5
g
Fat:
4
g
Saturated Fat:
1
g
Polyunsaturated Fat:
1
g
Monounsaturated Fat:
2
g
Cholesterol:
140
mg
Sodium:
953
mg
Potassium:
91
mg
Fiber:
1
g
Sugar:
1
g
Vitamin A:
200
IU
Vitamin C:
1.7
mg
Calcium:
30
mg
Iron:
0.9
mg
Instructions
In a small bowl, combine the arrowroot and water.

In a stockpot, bring the broth, aminos, sesame oil, salt, pepper, and ginger to a boil, then stir in the arrowroot and water until the soup thickens, about 1 minute.

Reduce the heat to low and drizzle the eggs in through the tines of a fork. Whisk gently for 1 minute.

Serve garnished with green onion.