Greek food was never one of my favorites. As a gluten- and nightshade-free vegan, there wasn't a whole lot of Greek food I could eat. I always hated family restaurant outings because I knew that if I was going to eat something that tasted good, I'd have to "cheat". Usually, it was french fries or rice, because I figured they were more innocuous than gluten or dairy. Heh, if I knew then what I know now…! Anyway, I was more than happy to consider Greek cuisine a thing of the past. But Practical Paleo's dolmas recipe caught my eye… it looked easy, flavorful, and didn't have any of those nasty ingredients I'd come to associate with Mediterranean food… All right, count me in! I made several adaptations to the original (which contained raisins and cauliflower and probably a spice or two that I can't eat) and wound up with a hella-good finger food my man and I have been enjoying at every meal for the past week. Hey, those big jars of grape leaves go a long way! You can totally freeze 'em right after wrapping and then thaw and bake for some easy-prep OAMC food.
Looking for AIP-Friendly Breakfast Recipes?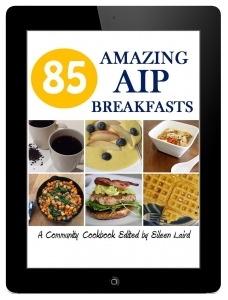 What to eat for breakfast is one of the most common questions I get from people starting the autoimmune protocol. I understand completely: With all my old staples off the table, breakfast was my biggest challenge, too. Well, now there's an easy answer. 85 Amazing AIP Breakfasts is a community e-cookbook featuring dozens of breakfast-friendly autoimmune protocol recipes from some of your favorite bloggers. With coffee substitutes, comforting teas, sausage, waffles, stir-fries, soups, hash, muffins, and porridge, 85 Amazing AIP Breakfasts has just about every one of your breakfast needs covered, sweet and savory alike. Many of the recipes can even be adapted for a low-FODMAP diet! The e-cookbook is available on editor Eileen Laird's website.
Nutrition Facts
Calories:
542
kcal
Carbohydrates:
18
g
Protein:
30
g
Fat:
38
g
Saturated Fat:
17
g
Polyunsaturated Fat:
1
g
Monounsaturated Fat:
15
g
Trans Fat:
2
g
Cholesterol:
121
mg
Sodium:
1235
mg
Potassium:
578
mg
Fiber:
2
g
Sugar:
6
g
Vitamin A:
1
%
Vitamin C:
14
%
Calcium:
6
%
Iron:
25
%
Instructions
Heat the coconut oil in a large skillet over medium heat. Cook the onion until translucent, then add in the meat, ginger, oregano, turmeric, and cinnamon.

Cook, stirring, until the meat is no longer pink. Add the cranberries and lime juice and cook, stirring, another 3-5 minutes. Season to taste with salt and pepper.

Remove from heat and allow to cool.

Preheat the oven to 350F.

Lay a grape leaf flat on a plate or cutting board and spoon about 1-2 tablespoons of the meat mixture down the center, following the line of the stem. Fold the bottom half of the leaf up on top of the meat, then fold in each of the sides to make a wrap. Fold the top part (with the stem) down and then place the dolmas seam-side-down in a large baking dish side-by-side.

Repeat until all the filling is gone.

Pour the water and lemon juice on top, cover with foil, and then bake 30-45 minutes or until the water has evaporated. Serve hot.