This brightly-colored, full-flavored, hearty Curried Vegetable Soup is an autoimmune protocol-friendly adaptation of a meal I used to make all the time with lots of curry powder. Mostly because I always seemed to have too much of the stuff lying around, but also because you never need an excuse to eat a healthy meal, especially when it takes hardly any effort to prepare. With six different types of veggies (seven if you count the garlic!), rounded out with a cheap cut of beef, this soup certainly fits the bill. It's ready in just over 30 minutes and if you want to make it stretch a little further, you can add more broth for a thinner consistency. (Make it bone broth for the most health benefits.) You can also sub the zucchini for yellow squash or use a mixture of both. Also feel free to adjust the seasonings to taste or to use curry powder instead if you aren't following the autoimmune protocol!
Treat Your Sweet Tooth!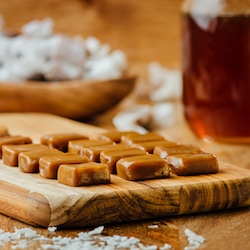 Being on a restricted diet doesn't mean you have to give up every indulgence. Temptation can be rough, and when it strikes, it's nice to have something on hand that's safe to eat. Enter Sweet Apricity. They make creamy, delicious caramels and fluffy marshmallows that just so happen to be 100% autoimmune protocol-friendly. With excellent customer service, high-quality ingredients, a subscribe and save program, and some of the most incredible sweets you'll encounter on the AIP, your sweet tooth doesn't have to go wanting. Plus, they're a great gift for anyone with food sensitivities!
Nutrition Facts
Calories:
504
kcal
Carbohydrates:
34
g
Protein:
19
g
Fat:
33
g
Saturated Fat:
21
g
Polyunsaturated Fat:
2
g
Monounsaturated Fat:
9
g
Cholesterol:
61
mg
Sodium:
1348
mg
Potassium:
1055
mg
Fiber:
6
g
Sugar:
17
g
Vitamin A:
213
%
Vitamin C:
82
%
Calcium:
6
%
Iron:
21
%
Instructions
Over medium heat in a large stockpot, cook the onions and garlic in the oil until translucent, about three minutes.

Add the meat and cook until seared on all sides, about five minutes.

Add the orange juice, broth, sweet potato, carrots, and aminos and bring to a simmer. Cook until the vegetables are nearly tender, about fifteen minutes.

Add the spinach, mushrooms, and zucchini, and stir, cooking until the spinach is wilted.

Add the remaining ingredients and bring to a simmer. Heat through before serving, making sure the carrots and sweet potato are tender.