Gravlax, lox, smoked salmon… cured salmon comes in several varieties and flavors from all over the world, but is usually served with some kind of bread (like toast, crackers, or bagels), capers, and cheese. My husband likes it inside an omelet with some chives or on a salad with red onions, while I've been known to snack on it all by itself when I need protein in a pinch. You might be surprised at how much money you can save by making your own cured salmon rather than buying it at the store! Even at my local Costco, smoked salmon is upwards of $16 a pound, while I was able to get these fillets for just $7. (Of course, how affordable salmon is may depend on the season and also how far you live from where it's caught.)
But curing it is an extremely easy process that just requires a little bit of patience. For other flavor variations, replace the dill with lemon or lime zest or leave it out entirely to let the liquid smoke really shine.
Looking for Some Simple AIP Recipes?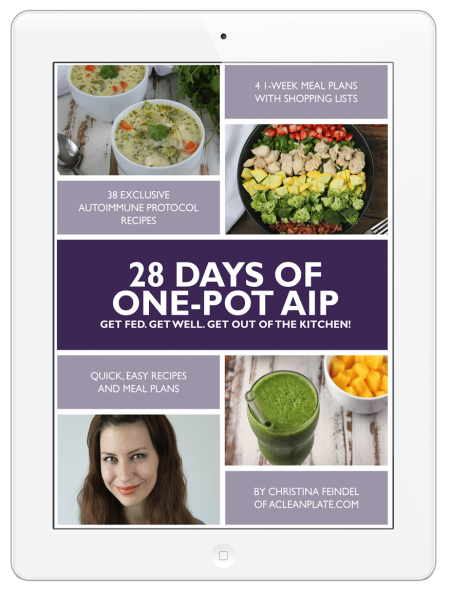 When you're dealing with fatigue, pain, or illness, eating healthy is hard enough without having to multitask while cooking or clean up a huge mess afterwards. That's why one-pot meals are my favorite. 28 Days of One-Pot AIP is exactly what it sounds like: A 28-day meal plan featuring only 100% autoimmune protocol, one-pot recipes. There's an intro to explain the AIP and one-pot cooking and the preparation is so much simpler when you've only got one thing to keep track of. Plus, you'll be amazed at the variety of flavors still available to you, like my Chicken Pot Pie Soup, satisfying green smoothies, and colorful salads! The e-book is now available for $9.99.
Nutrition Facts
Calories:
164
kcal
Protein:
25
g
Fat:
7
g
Saturated Fat:
1
g
Polyunsaturated Fat:
2
g
Monounsaturated Fat:
2
g
Cholesterol:
52
mg
Sodium:
52
mg
Potassium:
480
mg
Vitamin A:
4
%
Calcium:
4
%
Iron:
4
%
Instructions
Rinse the salmon and pat it dry with a paper towel, then cut it in half (to use an elementary-school phrase, hamburger style).

Combine the remaining ingredients in a small bowl and then press the rub into the pink parts of the salmon (don't worry about the skin). Sandwich the two halves of salmon together with the skin facing outside and then wrap tightly with plastic wrap.

Place in a high-sided baking dish and place another baking dish on top. Weight it with cans or jars and place in the fridge. Drain any excess moisture from the dish with the salmon and flip the fillets over once every day for 4 days.

After 4 days, rinse the rub off the cured salmon with cold water and pat dry with a paper towel. Serve within 3 days.