Feel free to leave out the nuts and even substitute them with some other kind of fruit or something. This is a light-yet-flavorful salad perfect for spring.
Looking for AIP-Friendly Breakfast Recipes?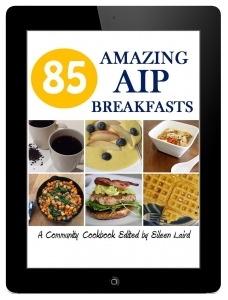 What to eat for breakfast is one of the most common questions I get from people starting the autoimmune protocol. I understand completely: With all my old staples off the table, breakfast was my biggest challenge, too. Well, now there's an easy answer. 85 Amazing AIP Breakfasts is a community e-cookbook featuring dozens of breakfast-friendly autoimmune protocol recipes from some of your favorite bloggers. With coffee substitutes, comforting teas, sausage, waffles, stir-fries, soups, hash, muffins, and porridge, 85 Amazing AIP Breakfasts has just about every one of your breakfast needs covered, sweet and savory alike. Many of the recipes can even be adapted for a low-FODMAP diet! The e-cookbook is available on editor Eileen Laird's website.
Nutrition Facts
Calories:
235
kcal
Carbohydrates:
29
g
Protein:
5
g
Fat:
12
g
Saturated Fat:
2
g
Polyunsaturated Fat:
0.04
g
Monounsaturated Fat:
0.01
g
Sodium:
2
mg
Potassium:
141
mg
Fiber:
7
g
Sugar:
19
g
Vitamin A:
1
%
Vitamin C:
7
%
Calcium:
11
%
Iron:
5
%
Instructions
Combine all ingredients in a large bowl and refrigerate 1 hour before serving.