There was a time in my life the phrase "kombucha granita" would have sounded like a foreign language. I would have no idea what the heck that was. I definitely wouldn't have guessed it was a delicious dessert! But these days, kombucha lines the shelves of grocery stores in as wide a variety of flavors as you can imagine. Fruits of all kinds, greens, herbs, and spices–where do you even start? With a base flavor of orange and grapefruit, and the delightfully, springy addition of basil, this granita works well with so many different kinds of kombucha. I've made it with lemon, berry, and ginger and would love to try peach, pineapple, and mango in the future. Maybe even one of the herbal flavors like hibiscus.
Don't have, can't find, or can't afford kombucha? Use sparkling water, pineapple juice, or additional orange juice instead.
Keep it Simple with Freezer Cooking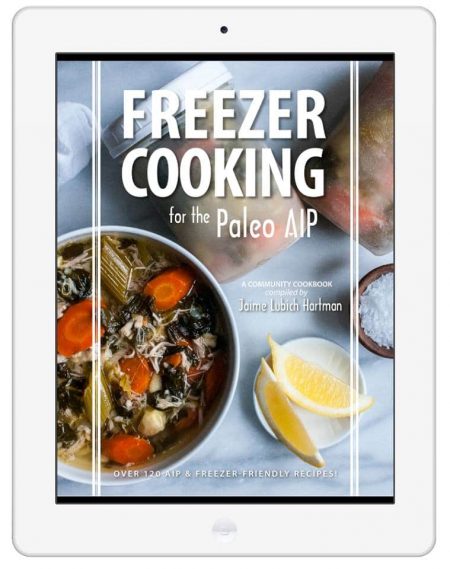 Preparing meals ahead of time and keeping them on hand in the freezer is one of the best ways to make any diet change sustainable. You'll wind up spending less time in the kitchen most days and will always have something ready to go when hunger or cravings strike. With Freezer Cooking for the Paleo AIP, you'll get 123 tried-and-true recipes from 30 of your favorite autoimmune protocol bloggers to help you out. Designed for batch cooking and advance prep, each recipe includes instructions for storing, freezing, and reheating it. There are recipes for every meal of the day and recipes for special occasions, too! The ebook is now available as a digital download for $18.90.
Nutrition Facts
Calories:
109
kcal
Carbohydrates:
25
g
Protein:
2
g
Fat:
0.5
g
Saturated Fat:
0.1
g
Polyunsaturated Fat:
0.1
g
Monounsaturated Fat:
0.1
g
Sodium:
3
mg
Potassium:
504
mg
Fiber:
1
g
Sugar:
21
g
Vitamin A:
1100
IU
Vitamin C:
139.4
mg
Calcium:
50
mg
Iron:
1.1
mg
Instructions
Combine the orange juice, grapefruit juice, and basil in a blender and process until smooth.

Pour into a 13x9" baking dish along with the kombucha and freeze for 30 minutes.

Use a fork to scrape apart any solid pieces that have formed, then return to the freezer for 30 minutes. Repeat 2-3 more times, until you have a crumbly, icy texture.