Guess what I'm doing today? Moving!
Moving is one of the top three most stressful things you will ever do in your life. One of the few psychology tidbits I retained from my undergraduate studies. And yes, I was crazy stressed out during that window between "deciding we were going to move" and "finding somewhere to move to". But we were so in love with the place we found that all the time since finding it has been nothing but eager anticipation for yours truly.
I can't say the same about my husband. He doesn't handle stress well and he doesn't like change, big or small. Moving is a big change. I understand his anxiety but neither share it nor know how to help except make this as painless as possible for him. I've taken care of everything and enjoyed every moment of it. The only things I've been stressed out about are the more mundane upsets: Work, a sick cat, daylight savings time royally screwing up my sleep habits…. But all that aside, I am crazy excited about our new place. A somewhat bigger space in a somewhat safer part of town, with a much nicer kitchen. I am looking forward to sharing it with all of you in the near future.
Of course, I had to get rid of as much food as possible in our old place. The past week has been an experiment in "can we make these four ingredients into a meal that doesn't taste weird?" Before it got down to basil leaves and carrot sticks, I had a lot of cocoa and frozen strawberries to get rid of. I kept lamenting my cocoa wasn't baking chocolate, or I'd make chocolate-covered strawberries. But you know what's like chocolate-covered strawberries, but not? Chocolate mousse-covered strawberry mousse. It's less messy to make and oh-so-very satisfying.
Treat Your Sweet Tooth!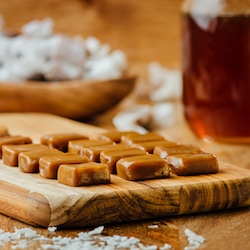 Being on a restricted diet doesn't mean you have to give up every indulgence. Temptation can be rough, and when it strikes, it's nice to have something on hand that's safe to eat. Enter Sweet Apricity. They make creamy, delicious caramels and fluffy marshmallows that just so happen to be 100% autoimmune protocol-friendly. With excellent customer service, high-quality ingredients, a subscribe and save program, and some of the most incredible sweets you'll encounter on the AIP, your sweet tooth doesn't have to go wanting. Plus, they're a great gift for anyone with food sensitivities!
Nutrition Facts
Calories:
501
kcal
Carbohydrates:
52
g
Protein:
4
g
Fat:
32
g
Saturated Fat:
17
g
Polyunsaturated Fat:
2
g
Monounsaturated Fat:
10
g
Sodium:
34
mg
Potassium:
775
mg
Fiber:
10
g
Sugar:
30
g
Vitamin A:
4
%
Vitamin C:
132
%
Calcium:
8
%
Iron:
9
%
Instructions
Combine all ingredients for the strawberry mousse in a blender and process until smooth, then divide evenly between 4 serving dishes.

For the chocolate mousse, heat the coconut milk in a small saucepan over medium heat.

When it starts to simmer, remove it from the heat and stir in the cocoa, coconut oil, vanilla, and salt until smooth. Transfer to a blender.

With the blender running, slowly pour the egg yolks in. If you do it too quickly, the egg will cook and scramble into your chocolate. Keep blending for a full minute, then pour the mixture into ramekins or other serving dishes and chill for at least 1 hour.

Top the strawberry mousse with the chocolate mousse. Chill at least 30 minutes before serving