This Chicken Schawarma features heavily seasoned chicken served on a bed of fragrant rice and fresh-crisp salad, topped with a creamy garlic sauce. I looooove this meal. So does my husband: It was his favorite food to grab on the way home from work when we lived in Austin, and now it's a weekly staple at our house. It has a lot of components, but after making it just a couple of times, I've got it down to a straightforward routine that'll have your family craving seconds. If you're not on the AIP, feel free to use basmati rice and to replace all of the spices in the chicken with 3 tablespoons of garam masala.
Need Help Meal Planning?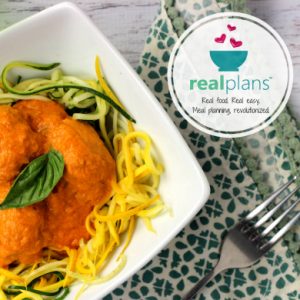 Feeling uninspired or struggling to stick to your Paleo or autoimmune protocol diet? It helps to have a plan. Real Plans will create a custom plan for your family's size, schedule, and needs and it's just $6/month if you sign up for an annual subscription. This is a great next step for those of you that have finished 28 Days of AIP and are looking to keep the ball rolling with new, exciting recipes!
Ingredients
Instructions
Chicken
In a large skillet over medium heat, melt the coconut oil. Toss the chicken with the garam masala and add to the pan, stir-frying until cooked through, about 10 minutes. Cover to keep warm.
Rice
Heat the oil in a large pan over medium-high and stir in the spices for a few seconds before adding the broth.

Stir in the riced cauliflower and cook until tender, about 5 minutes, adding more broth as needed to keep the mixture from getting too dry.
Salad
Divide all ingredients equally between four serving bowls, placing the salad on one side of the bowl to leave room for the rice on the other.
Assembly
In the serving bowls, place 1/4 of the rice opposite of each salad and lay 1/4 of the chicken down the center. Drizzle 1/4 of the sauce atop each bowl, then serve.