This. It was perfect. Amazing. So good. I've never had mole sauce, so I have no idea what the authentic stuff tastes like. But, I don't need to know. Whether or not this is anywhere close, it's incredible. Noah requested we have it every night, and I'm inclined to indulge him on that one.
Looking for more easy AIP recipes?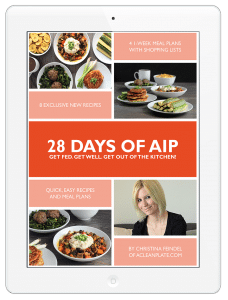 I know diet change can feel overwhelming. I started the autoimmune protocol at a time when only four other people were writing about it, and over the years, I've striven to give you the resources I wish I'd had when I got started. Not just recipes, but ways to implement them. My first ebook 28 Days of AIP is a meal plan that will help you get going (or get back on the wagon) with as little fuss as possible. With a variety of simple, delicious recipes, plenty of leftovers so you don't spend all your free time in the kitchen, and shopping lists ready to go, all you have to do is follow the plan, then sit down and enjoy your meal! It's available as a digital download for $9.99.
Nutrition Facts
Calories:
251
kcal
Carbohydrates:
7
g
Protein:
34
g
Fat:
9
g
Saturated Fat:
2
g
Polyunsaturated Fat:
2
g
Monounsaturated Fat:
3
g
Cholesterol:
96
mg
Sodium:
606
mg
Potassium:
372
mg
Fiber:
1
g
Sugar:
4
g
Vitamin A:
250
IU
Vitamin C:
3.3
mg
Calcium:
10
mg
Iron:
1.8
mg
Instructions
Put the chicken in a pot with enough water to cover and bring to a boil.

Reduce heat and simmer for 15 minutes.

Reserve 1 cup of broth from the chicken and pour out the rest, then combine the 1 cup broth with the remaining ingredients and add to the pot with the chicken.

Bring to a boil, then reduce heat to medium-low and simmer 30 minutes, stirring occasionally.