I am still warring with my decision to give up veganism for the autoimmune protocol, but I am confident that, for the moment, it was the right decision to make. Beans and nuts never sat with my IBS too well, but I always assumed meat would be worse. While the research suggests otherwise, it may be a while before I notice any improvement. But I'm hopeful. Meanwhile, I'm continuing to adapt traditional and regional cuisine for an autoimmune diet. This take on chicken lazone lacks the traditional hot 'n spicy, but has great flavor. With the cream sauce, it goes well over veggie noodles or salad.
Treat Your Sweet Tooth!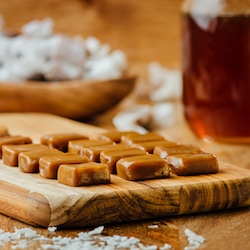 Being on a restricted diet doesn't mean you have to give up every indulgence. Temptation can be rough, and when it strikes, it's nice to have something on hand that's safe to eat. Enter Sweet Apricity. They make creamy, delicious caramels and fluffy marshmallows that just so happen to be 100% autoimmune protocol-friendly. With excellent customer service, high-quality ingredients, a subscribe and save program, and some of the most incredible sweets you'll encounter on the AIP, your sweet tooth doesn't have to go wanting. Plus, they're a great gift for anyone with food sensitivities! Get 10% off with coupon code CleanPlateHolidays now through January 30th, 2020!
Nutrition Facts
Calories:
325
kcal
Carbohydrates:
7
g
Protein:
35
g
Fat:
17
g
Saturated Fat:
10
g
Polyunsaturated Fat:
2
g
Monounsaturated Fat:
4
g
Cholesterol:
96
mg
Sodium:
925
mg
Potassium:
375
mg
Fiber:
1
g
Sugar:
2
g
Vitamin A:
200
IU
Vitamin C:
1.7
mg
Calcium:
40
mg
Iron:
2.5
mg
Instructions
Combine the coconut oil, garlic powder, ginger, turmeric, and salt. Cover both sides of the chicken in the spice mix.

Heat a lightly oiled frying pan over medium heat and cook the meat about 6 minutes, turning over halfway through.

Add the coconut yogurt, turn the heat to low, and simmer until heated through and the meat is no longer pink in the middle.