I am still warring with my decision to give up veganism for the autoimmune protocol, but I am confident that, for the moment, it was the right decision to make. Beans and nuts never sat with my IBS too well, but I always assumed meat would be worse. While the research suggests otherwise, it may be a while before I notice any improvement. But I'm hopeful. Meanwhile, I'm continuing to adapt traditional and regional cuisine for an autoimmune diet. This take on chicken lazone lacks the traditional hot 'n spicy, but has great flavor. With the cream sauce, it goes well over veggie noodles or salad.
Struggling with thyroid disease?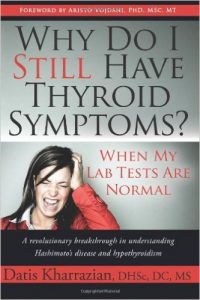 Why Do I Still Have Thyroid Symptoms? by functional medicine practitioner Datis Kharrazian is single-handedly responsible for my improved health over the past few years. It introduced me to the connection between autoimmune disease and lifestyle factors like diet at a time when my doctors were telling me there was nothing wrong with my thyroid even though I had high antibodies. This book gave me the information I needed to get the right tests ordered and seek proper treatment. It's a must-have guide for anyone who has already been diagnosed with thyroid disease, who is at risk due to family history, or who strongly suspects they may have it but isn't sure where to start. I can't recommend it enough!
Nutrition Facts
Calories:
325
kcal
Carbohydrates:
7
g
Protein:
35
g
Fat:
17
g
Saturated Fat:
10
g
Polyunsaturated Fat:
2
g
Monounsaturated Fat:
4
g
Cholesterol:
96
mg
Sodium:
925
mg
Potassium:
375
mg
Fiber:
1
g
Sugar:
2
g
Vitamin A:
200
IU
Vitamin C:
1.7
mg
Calcium:
40
mg
Iron:
2.5
mg
Instructions
Combine the coconut oil, garlic powder, ginger, turmeric, and salt. Cover both sides of the chicken in the spice mix.

Heat a lightly oiled frying pan over medium heat and cook the meat about 6 minutes, turning over halfway through.

Add the coconut yogurt, turn the heat to low, and simmer until heated through and the meat is no longer pink in the middle.