I'm always late to all of the seasonal trends. Not because they don't start around here the same time as everywhere else–Pumpkin Spice was all over the place by the end of August. Fall can't come fast enough for fans of the flavor (or companies eager to cash in on the trend)! But around here, the weather was hot hot hot until about a week ago. The last thing I wanted was a steaming mug of latte. As a food blogger, I probably could have sucked it up and made some anway… but it honestly didn't occur to me. I want to enjoy my food. I'm sure you do too. So, one day I was wearing shorts and the next day I was bundled up in six layers to sleep, and I thought "It's time". For a Caffeine-Free Pumpkin Spice Latte. For cocoa. For soup. For standing by the oven while I'm making pot roast. For bringing out all the blankets and curling up on the couch with a movie every night because going outside sounds like a drag. And relative to what a lot of you guys are dealing with right now, it's really not that bad. I'm sure this would be a lovely day to many of you. But we Texans are well-adapted to our 100-degree, 10-month-long summers and for two months a year we are shivering homebodies. I am most physically productive on beautiful spring-like days when the sun is shining but the weather is comfortably warm. Cleaning. Cooking. Exercising. Running errands. I am all go-go-go. Whereas in winter, my body seems to shut down, leaving me to do brainier, more introspective things, like writing. I enjoy it. It's nice. I wish it lasted longer. But I also wish I wasn't so run-down all the time.
Well, that's winter for you. On to the recipe! This one is autoimmune protocol-friendly if you use this herbal coffee recipe, but can be made with any kind of coffee or coffee substitute depending on your dietary needs and preferences. I've made it with coffee and it is mmm mmm good either way. The best part? It actually has pumpkin in it. It's not just pumpkin spice like most of the products you'll find out there. These are also great iced!
Keep Your Health on Track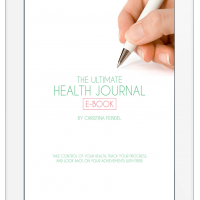 Whether you're starting the autoimmune protocol, a new medication, an exercise routine or trying to get to the bottom of your headaches or indigestion, cataloging your activities and symptoms is a great way to gauge your progress. The Ultimate Health Journal can help you stay on track with diet, fitness, and other lifestyle changes you have begun or been prescribed, notice patterns in your health and lifestyle so you can enact positive changes, and provide a valuable tool for you, your family, and your healthcare team. I would never have noticed that cinnamon makes me sneeze or dairy gives me hiccups without keeping a written record during my elimination diet, which helped me see the patterns that solved my problems! The ebook is available as a digital download with printable template for $6.99.
Instructions
In a medium saucepan over medium heat, cook the pumpkin and spices for 5 minutes, stirring constantly.

Add the coffee, milk, and syrup. Reduce the heat to low and simmer for 30 minutes.

Stir in the vanilla, then serve garnished with whipped cream and a sprinkle of mace.